Inspiration
A vibrant coastal kitchen
With its sandy harbour, abundance of rockpools, white-washed cottages and picturesque hillsides, you'd be forgiven if bold, contemporary interior design isn't the first thing that comes to mind when you think of Port Isaac. A place caught in time, the traditional fishing village is one of Cornwall's most beautiful, historic gems.
But when award-winning interior designer and founder of Noushka Design, Anouska Lancaster stumbled upon Hillside Cottage, she set about creating a holiday home with a real wow factor, injecting it with her signature vibrant and playful design style to create a look that's truly unique. It's a tribute to Anouska's bold design eye that the eighteenth century fisherman's cottage now has more than eleven thousand followers on Instagram.
We sat down to talk to Anouska about the project, to learn how she put together this creative scheme, and to hear about the twist of fate that led to her finding the property.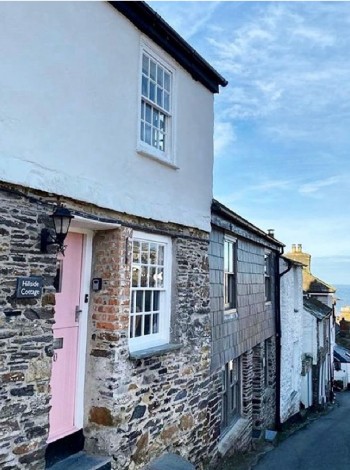 Anouska, it's lovely to meet you! Tell us a little about yourself, your work and your aesthetic.
Art is in my veins. My earliest memories as a child are of drawing - rarely would I be seen without pen and paper in hand. To this day, I love painting and combining colour, pattern and textures.
Interior design was a natural progression for me, and I really felt that I had found my calling when I designed my first interior. Creating an interior scheme is very similar to painting a picture. You begin with a blank canvas and slowly the layers of shapes, colours and textures are applied to create a finished masterpiece.
​​My designs are colourful, bold and brave. Each interior I design is as individual as the person that I am designing it for. I believe that in the same way that you dress yourself, you should dress your home. What you wear speaks volumes about your personality, your individuality and your sense of style. Your home should do the same.
We couldn't agree more. Tell us a little about the property. How did you find it?
It was fate that led us to Hillside Cottage. We bought it in 2018 after a two year search for the perfect holiday home. I'm very fussy and knew exactly what I wanted. It had to be picture perfect with far reaching sea views.
We were heading back to our car after yet another unsuccessful viewing in the village when we stopped halfway up the hill for a breather. The then-owner was outside the cottage, sweeping the steps. We got talking and she told me that Hillside Cottage was going on the market the following day. We viewed it there and then and did a deal on the doorstep. It never made it to market!
What a stroke of luck! What was the property like before the renovation?
The interior of the cottage was rather tired when we bought it. Every room was painted white and it lacked personality. The kitchen itself was very plain - white with white kitchen cabinets.
We just love how you've completely transformed the space! How did you come up with this look?
Thank you! I really believe that the interior of a holiday home should be one that makes you feel happy and should transport you away from normality. I love using vibrant colours, particularly in small spaces to create a real 'wow factor'.

From the moment we bought the cottage, I knew I wanted to use scallop tiles in the kitchen. I wanted the coastal theme to run strongly throughout its design.
I had fallen in love with a wallpaper called Jelly Fish Bloom by American wallpaper and fabric house, Thibaut, which was my starting point. I pulled colours from that to create the colour scheme.



I ordered a handful of tile samples from Marlborough Tiles, and adored them all - but as soon as I saw the SoAventurine Scallop from the Soho collection, I knew I'd found the perfect tiles for the project. I loved their artisan look and feel, as well as their larger size. Scallop tiles can often be a little on the small side and I wanted these to have a real impact.
The tiles make stepping through the door feel like an underwater adventure. They remind me of a mermaid's tail. You'll notice that I turned the tiles upside down from the traditional way of laying them, and I love the effect this gave – almost like the waves of the sea are crashing around the room.


There's a truly eclectic collection of homewares in the space. How did you go about finding them?
I bought the fabric on eBay even before I bought the cottage. So many people ask where it's from and sadly I never saw it again. I always buy fabrics I love when I see them, as more often than not these become the foundations of my designs. The pom poms on the blinds are by Samuel and Sons.

The coastal accessories came from a shop called Culinary Concepts, while the crab sculptures are by a local artist called Martyn Dempsey.
What would you say was the greatest challenge of the project?
By far, the greatest challenge was getting the white quartz worktops in through the tiny cottage front door and around the corner into the kitchen. The cottage is like a doll's house and therefore everything that enters takes military planning and precision!
Do you have any tips for our readers who might be embarking on similar projects?
Take your time to make sure that you love every element of the design scheme.
Trust your gut, if something doesn't feel right then it won't look right.
And last but not least, be patient. It doesn't matter how long it takes to source the perfect materials – a finished result which you love will be well worth the wait.
What has the feedback been from your guests?
Our guests adore the cottage's interior scheme. You can't help but feel happy as soon as you walk through the pink front door! It's a total escape from reality, like entering another world.
_____________________________________
You can learn more about the cottage and book via @hillsidecottage_portisaac on Instagram. For more inspiration and to discover Anouska's other projects, follow @Noushka_Design or visit noushkadesign.com.

We love nothing more than seeing your completed projects - if you would like to see your project featured here, simply tag @MarlboroughTiles in your project photographs on Instagram and we will be in touch.