Inspiration
Creating a luxury family bathroom in a quirky space
There is nothing quite so lovely for us at Marlborough Tiles as seeing our handmade tiles in your homes. We're very grateful that so many of you take the time to tag us in photographs of your completed projects on Instagram, and we want to celebrate your lovely work.
So, here on our journal over the coming months, we will be featuring some of the most loved projects from amongst our tagged photographs on Instagram.

Today we begin with a fabulous project, and one of the most popular of all of our tagged photographs: a luxury family bathroom created by Jess Weeks Interiors.
We sat down with Jess to find out all about the project, the challenges of designing in unusual spaces and to get her tips on how you can go about designing a scheme for your next project.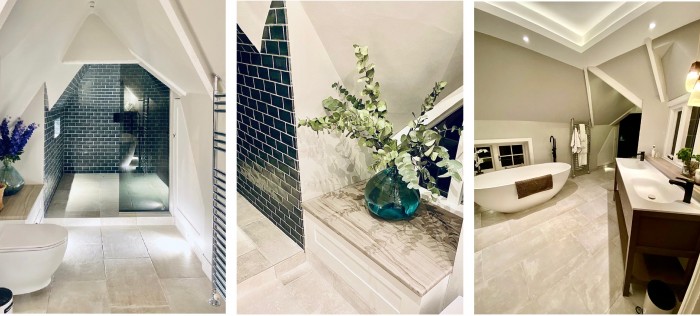 What are the challenges of designing in this kind of space? Where do you start?
Designing for a quirky space like this one in the eaves of a thatched cottage of course has its restrictions, but if you embrace the challenge it's incredibly gratifying.
The property has the word 'thatch' in its name, so it went without saying that the beams should remain. We wanted to retain the character and historic charm of the space, but we needed to balance this with our clients' desire for a larger, lighter, more harmonious space. We painted the retained beams in a beautiful light tone and devised a lighting scheme to emphasise them.
Optimising the height of the bathroom space was another challenge. Where we were able to lift the ceiling we did so, and where that wasn't possible, we added a quirky step. On the floors we chose Ridgeway Tiles from Marlborough - beautiful chalky flagstones with rough edges and an antique character which adds softness and creates balance. We added lighting to the tiled up-stands to make a feature of them.
To provide long term storage, we built a window seat in the bathroom with a stone top to keep moisture out. For more easily accessible everyday towel and linen storage, we designed a cupboard on runners which can be pulled out and moved as needed.
We just love the final design. It's such a striking colour palette - tell me about how it was chosen…
Originally, the bathroom was very bold. With this new design, we sought to create a striking look with a softer, more chic feel. For the shower walls, we selected Manton Hollow from Marlborough Tiles' Savernake collection. It's a classic brick tile in an intense deep blue-grey which references the decor in other parts of the house, creating flow between rooms. The tiles have a subtle crackle glaze, which adds to the rustic character of the space.
Do you have any tips for our readers on how they might themselves go about creating an overall scheme for their interior project?
A great question - and it isn't always easy. I would recommend that you begin a project like this by building a vision board. Pull together images that describe the look you want to achieve, whether on a computer or by cutting and collaging images together from magazines.
Next, choose your first design element. You have to start somewhere! For example, this might be your wall tile. Visit a tile showroom (the one at Marlborough Tiles is fabulous) and collect a sample of each of your favourites. Take the samples into the space you are designing for, and live with them for a few days. Quite soon you will get a feel for what works best in the space. Leave the tile up and do the same again with paint swatches and then with your floor tiles. You may not find the perfect combination on your first try - keep going until you do.
What made you choose Marlborough Tiles?
Choosing a tile, whether for a client or for yourself, can be somewhat daunting. There is a lot to consider. Each time we have worked with Marlborough Tiles, the team has offered a great deal of support throughout the process, and that's something we really value. Not to mention, the collections are exceptional.
And finally, we'd love your take on the interior design landscape has changed since the pandemic...
We have certainly seen a transition in design trends since the lockdown restrictions. We've noticed a braver take on interiors, with clients moving toward architectural, organic design, and are seeing cleaner, more contemporary shapes and palettes for 2021/22, over more traditional country home designs.
Follow Jess Weeks Interiors on Instagram for more inspiration, and if you would like to see your project featured here, simply tag @MarlboroughTiles in your project photographs on Instagram. We look forward to seeing the results of your hard work!