MT in focus
Creating joyful spaces with Turner Pocock
A new year brings with it the promise of fresh beginnings and new possibilities. Therefore, it feels fitting to feature on our journal this week a recent partnership we were very proud to support that achieves just that. We were delighted to work with TP Caring Spaces to help transform the tired overnight rest room at Mencap Dunstable, a charity that is committed to improving the lives of those with learning difficulties, into a space that felt fresh and uplifting.
TP Caring Spaces is the charitable initiative of leading interior design studio, Turner Pocock, which offers their services to charities and community programmes to create practical and beautiful spaces that are infused with joy and a sense of fun.
We spoke to Turner Pocock's founders, Bunny and Emma, about the key role design plays in creating a restorative environment, and how they put this into practice by transforming unloved spaces into a haven of calm and comfort.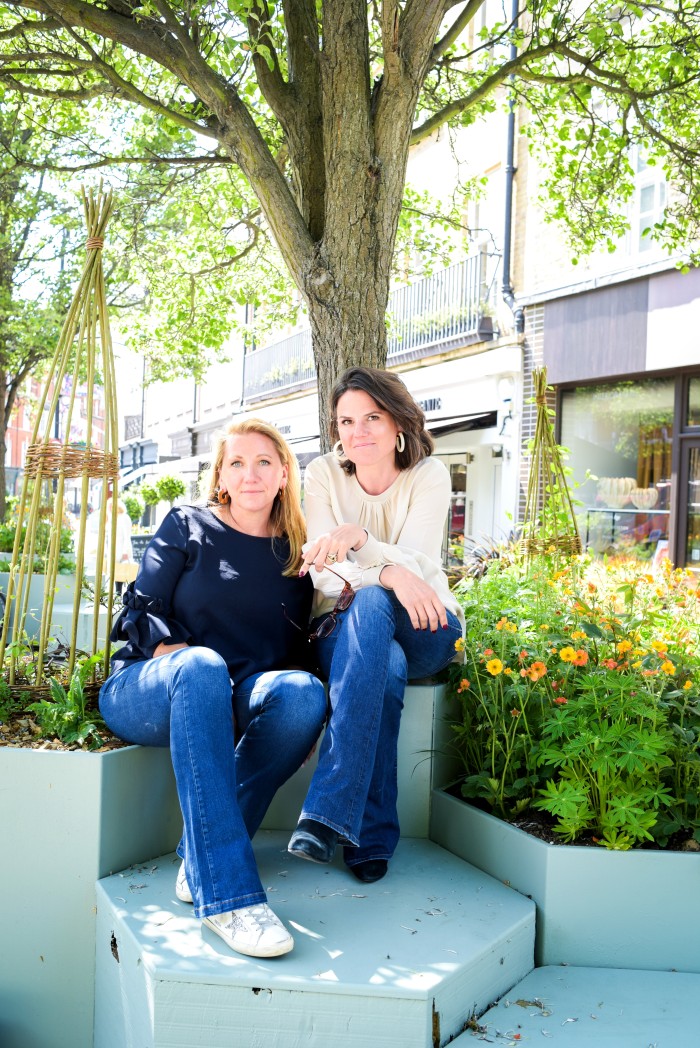 Please can you begin by telling us a little about how TP Caring Spaces came about? What is the goal of the charity and who do you aim to help?
We had long been discussing the desire to create a charitable arm to the business or how to find a way to use our skills and network to benefit those in need. During the Covid-19 pandemic, we received a request from a Matron at Guy's and St Thomas' Hospital asking if we would consider transforming a very tired and neglected staff room for her team. We leapt at the opportunity and TP Caring Spaces was born. Our goal is to help as many diverse charities as possible by using our skills and our network to transform much needed spaces for patients and their families, key workers, the homeless, displaced and refugees.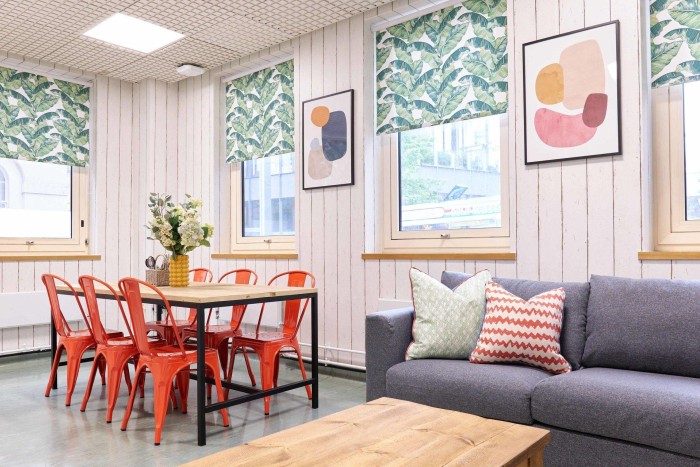 One of your recent projects has been transforming the overnight rest room at Mencap Dunstable. How did you go about creating the overall look and what were the key pieces or challenges that helped you make decisions?
Having to include a bed within a relatively small office posed a challenge, as did ensuring there was sufficient office space where people could work comfortably. When working within a much needed and occupied space, the time frame is key, and so we needed to organise as much as possible off-site and adhere to a very tight schedule. We selected a colour combination we knew created both a sense of calm and joy, mixing soothing teal with uplifting highlights of welcoming yellow.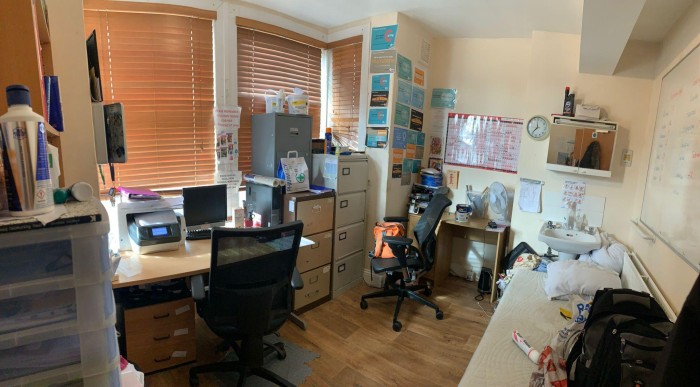 Good design can have a restorative effect. What kind of environment did you hope to achieve in this space?
This space had to fulfil many functions, so we needed to be mindful of creating a relaxing environment that was conducive to work, rest and sleep. All of these purposes call for a calm and organised space, when seeking escapism and tranquillity. Another aspect of the brief was to go paperless, so we installed a book case & a number of floating shelves to hide away files.

How did you choose the colour palette? Did you have a specific idea in mind or any influences?
Teal and yellow is a tried and tested and much-loved colour combination of ours. We knew it generated the fusion of calm and well-being that we were hoping to create.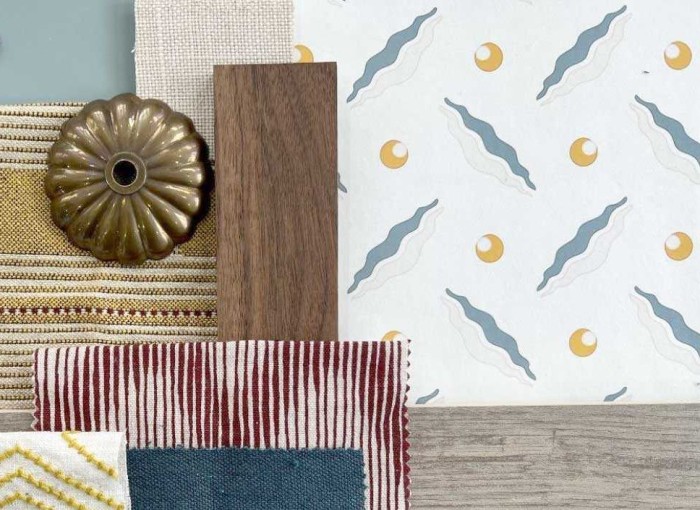 We were thrilled to be be involved as a design partner. How did you come across Marlborough Tiles and why did you choose us for this project?
We have worked with Marlborough Tiles on several Turner Pocock projects as we love the artisanal qualities of the tiles, as well as the company's British heritage. When we told Jo and Jamie about Mencap, they were keen to support the project and get involved.
Babbling Brook medium brick tiles from the Seasons collection were simply perfect with our chosen paint colour: Farrow & Ball's Oval Room Blue. They made for such a wonderful pairing.

We completely agree, they create a tranquil feel in any space. What were the greatest challenges of the project?
The greatest challenge was undoubtedly the time restraints, as the space could only be vacated for a very short period. Long hours and night shifts are hugely demanding for the team at Mencap Dunstable so it was hugely important to design a space that felt welcoming and restful, but was also practical. We made the design decision to move the sink from the main overnight rest room, and instead create a separate bedroom and bathroom.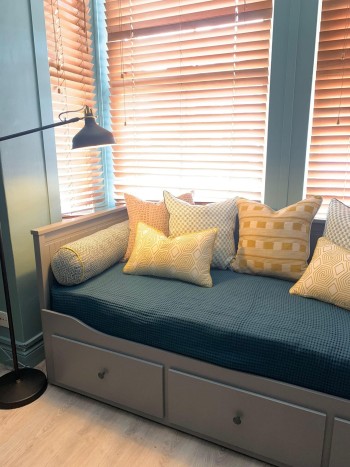 What was the reaction from the staff nurses when they saw the new space?
They were absolutely delighted! It was so rewarding to hear about how pleased they are to spend time in their newly designed room and how inviting they find it.
What's next for TP Caring Spaces?
There are lots of super projects in the pipeline including one with Great Ormond Street Hospital. We are also focused on raising money through lots of fundraising initiatives. In 2022, four of the TP Caring team members trained for the Royal Parks Half Marathon to raise all important funds for our next project in a women's shelter. We also hosted our very first Advent Raffle, where we partnered with some fantastic design brands to offer 25 prizes in the lead up to Christmas.
Thank you to Bunny and Emma for speaking with us. We are thrilled to have been able to support such an important cause that is so close to our hearts. To learn more about the fantastic work TP Caring Spaces and Mencap undertake and how to support them, visit their websites tpcaringspaces.co.uk and mencap.org.uk