Inspiration
Introducing Ana
Whilst on a sailing trip with their families around the Amalfi Coast, Sims Hilditch founder and leading interior designer Emma Sims Hilditch, and our Managing Director Jamie Robb, found themselves entranced by the abundance of vibrant and ornate tiles for which this region of Italy is so renowned.
"Everywhere you look in Capri, you see decorative tiles in bold patterns and beautiful, vibrant colours," says Jamie. "They cover every wall, every doorstep and floor, and they look absolutely stunning in the warmth of the Mediterranean light."
Having worked together previously to create the Emma collection, the pair resolved to collaborate on a new collection of hand painted tiles inspired by what they had seen.

Design process: developing the collection
Back at home in England, Emma and Jamie worked closely with our team of artisans to develop the new collection, which they named Ana in homage to Anacapri - a charming town set high on the island of Capri.
Taking inspiration from the abundance of exquisite eighteenth and nineteenth century patterns seen in Italy, they set about creating a hand painted design for the collection that would beautifully suit the English home, while maintaining the decorative appeal that makes Mediterranean ceramics so distinctive.

Emma worked with the team to develop a palette of five soft colours that would work in harmony with our cooler northern light. Each of the glaze colours was pored over, chosen and precisely mixed from our bank of more than fifty pigments and stains, to ensure the perfect tone.
The resulting collection features an elegant and timeless pattern with pleasing symmetry, a central diamond motif and intricate floral corners.
The palette retains much of the warmth and richness so characteristic to the Mediterranean, with colours such as Amber, a golden-toned ochre, and Burnt Orange, an earthy sienna. Powder Blue, a pretty sky blue, and Thyme, a lively green, reflect the colours of a British summer. Finally, Charcoal offers a grounding and versatile neutral. Each of these colours can be paired with our Ana Plain Tile, a soft antique white, and each is finished with a crackle glaze.
Our artists use the traditional Majolica method to paint each tile by hand. In this technique, every stroke of the pattern is painted directly onto the unfired glaze of each tile. This means that the base glaze and the artist's work can be fired a the same time, enhancing the fluidity and intensity of the artist's brush strokes.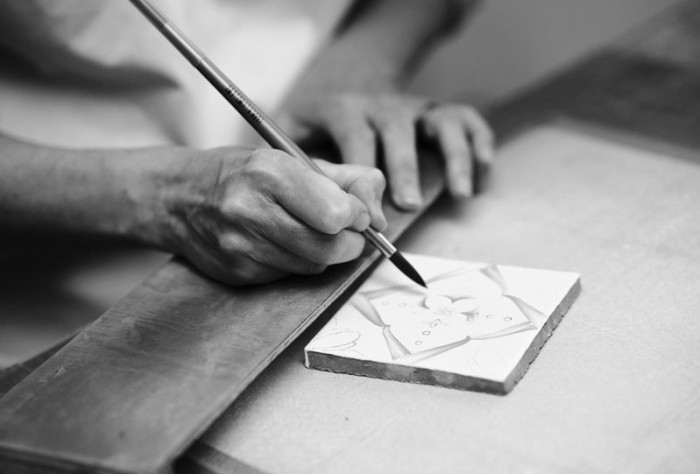 "Ana is a timeless pattern in the Mediterranean style that uses softer, more muted colours that are beautifully suited to the English home," says Emma. "The subtlety of the colours developed for this design means that the tiles are incredibly versatile and can be used on the walls of a bathroom, kitchen, or even around fireplaces and woodburning stoves."
At the Sims Hilditch design studio, and at her home in the Cotswolds, Emma has chosen to use tiles from the Ana collection in a variety of settings, both inside and out.

As artisans first and foremost, we delight in the opportunity to partner with other creative businesses that share our values for British craftsmanship, attention to detail and timeless design. Sims Hilditch is one of the most influential and trusted interior design studios operating today, and it has been a true pleasure and an honour to collaborate with Emma and her team.

scroll-overwrite