Inspiration
Restoring a country cottage
When Ramona and her husband Aaron first found their country cottage, they fell in love with its history and extensive outdoor space. Since then, they have been gradually restoring its period features and adding thoughtful, personal touches to their home.
Ramona documents their life in the Somerset countryside on her popular and inspirational Instagram account, @monalogue
In today's article, we learn about Ramona's love of all things antique, and hear how she and her husband set about adding character back into their period home.
Hi Ramona, thank you so much for talking to us today. Perhaps you could begin by telling us a little about your home and who you share it with?
Of course. I'm 29 years old and live in a 250 year old cottage with my husband Aaron, our two Japanese Spitz dogs and five Indian Runner ducks. Both Aaron and I are creatives; I work as a content creator on social media, and he is a photographer. I love antiques and old things, as you will notice from looking around our home.
Do you know much about the cottage's history?
The records for our home were destroyed in a flood, but we do know it was originally a miner's cottage. The house is very small and is laid out in the traditional 'two up, two down' format which we love as it feels very cosy. It has an unusually large garden for a property of its type, which was what made me fall in love with the property when we first moved here three years ago. We grow lots of our own fruit, vegetables and flowers here. Traditionally, the street we live on would have shared the land behind the houses. Some parts are still shared now and there is a great sense of community. We even share an old farm building with our neighbour. Inside we have tried to sympathetically restore as many original features as we can, and to make design choices that are keeping with the period of the cottage.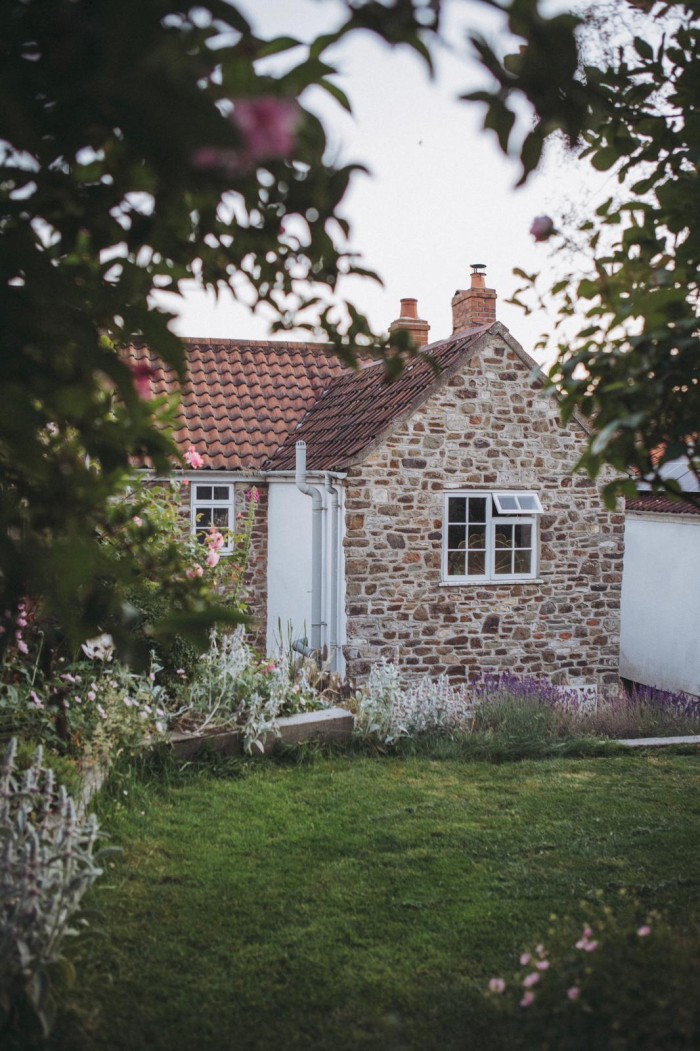 How did you come across Marlborough Tiles? Why did you choose our tiles for this project?
I first found Marlborough Tiles when I was researching tiles for our kitchen. I was looking at videos of how tiles were traditionally made, which led me to you. We became even more interested when we found out that Marlborough Tiles are based only an hour away from us. It instantly felt like a natural choice for our bathroom. The tiles feel like they have so much life and character to them.
Why did you choose to renovate the bathroom first?
The bathroom was tiny and very angular, with a modern bright red and black in colour. To us, it didn't feel in keeping with the history of the cottage and wasn't to our taste. To add to that, the old pipe work was leaking through the floor and into our kitchen ceiling! So, we knew it need replacing as soon as possible.
How did you go about creating the overall look? What were the key pieces or challenges that helped you make decisions?
We wanted the bathroom to be a mix of classic and modern, with the hope that it will still look timeless in years to come. We chose a roll top bath and traditional furniture from Burlington. For the floor we chose Knave from your Lacock collection, as we loved how these echoed the original flagstone floor downstairs. It also reminded us of Lacock Abbey, which is one of our favourite places to visit. The walls and ceiling have been finished in blush pink microcement, which is waterproof and has a rustic texture that reminds us of the traditional limewash. We knocked two tiny rooms together to make a bigger size room, and this allowed for more natural light and prevented the bathroom from feeling like a cave!
And how did you select these tiles in particular? What about the tiles most appealed to you? Were there any close seconds?
Our bathroom renovation happened unexpectedly, as our builders received a last minute cancellation. I phoned Marlborough Tiles in a panic to see what was available and when. Grace talked me through the options and we made a decision – she was very helpful. I really liked the large size of the Lacock tiles we chose. The colour is light enough that it keeps the room feeling bright, whilst the grey undertones beautifully complement the soft pink of the walls. The tiles have lovely detailing of tiny fossils which is my favourite feature, I am a detail-oriented person so I find that very satisfying. Your Ridgeway collection was a close second; it's hard to choose a favourite because they are all wonderful in their own right!
How did you go about choosing the colour palette?
We have a pastel colour theme in the house, with each room painted a different shade. It feels very happy and comforting to live in when you're surrounded by pastels. I love soft pink as it reminds me of unfinished plaster used in Hardy's Cottage in Dorset, which is one of my favourite places. The soft pink of the microcement used across the walls and ceiling creates a similar beautifully aged affect. We opted for gold hardware, which has a very luxurious feel.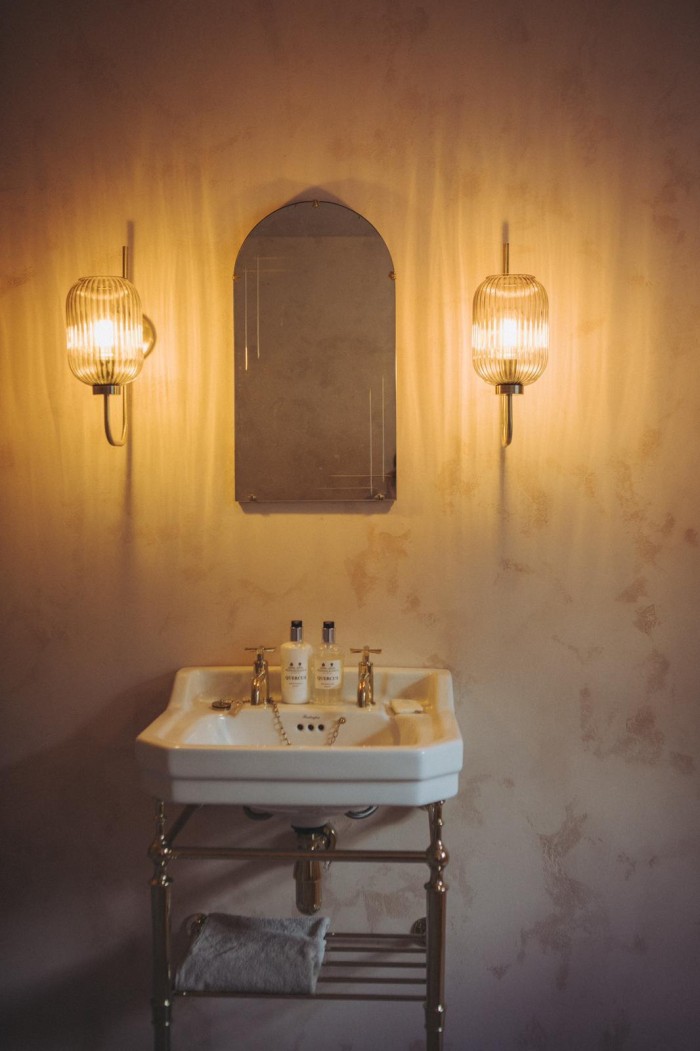 What were the greatest challenges of the project?
Putting a new bathroom in an old house and having it look sympathetic to the character of the house was harder than I thought. The floor really helped keep that antique, characterful feel. We were much more rushed than was ideal, with the builders arriving on a cancellation. But we are happy with how things came together. Also, getting things up our tiny staircase is always a nightmare!
___

A huge thank you to Ramona and Aaron for sharing their story with us.

We love nothing more than seeing your completed interior design projects. If you would like to see your home featured here, simply tag @MarlboroughTiles in your project photographs on Instagram.