Inspiration
Bringing the outside in: Vincent the House
Five years ago, designer Roxanne and photographer Chris purchased an Edwardian townhouse in London which they share with their two rescue dogs, Louie and Jasper. Since then, the two have been hard at work, turning their house into a beautiful and stylish home. They share their journey on their popular Instagram account, @vincent_the_house.

In today's article, we take a look at their nature-inspired kitchen renovation, sharing some 'before and after images' of the space, plus the couple share their tips for others embarking on similar projects.
Tell us a little about the property...

The house is a typical Edwardian terrace and was built around 1908. It was originally a three-bedroom, one-bathroom house, but the previous owners did a loft extension and it now has five bedrooms and two bathrooms. We fell in love with it because it has such lovely period features and a beautiful south-facing garden. We've lived here for five years now.
Can you describe what the kitchen was like before you began work?

The previous kitchen was rather dated and crammed full of cabinets. It had some mock-terracotta floor tiles, a melange of country-style wall tiles, cream cabinets with peeling melamine, broken UPVC doors and poor lighting.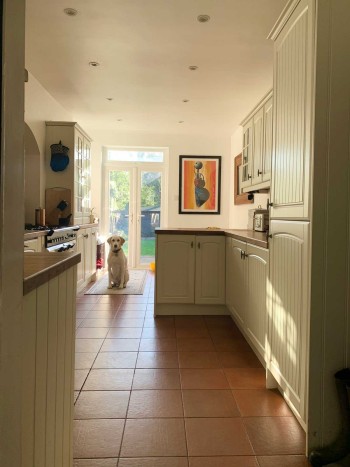 The new space looks beautiful! How did you go about creating the overall look?

When we first viewed this house six years ago, one of the biggest selling points was the south facing garden. We loved the view so much that it became our main inspiration when designing the kitchen.
We opened up the back wall and installed huge crittall-style bifold doors to frame the garden. We added shelving for indoor plants and hung foliage-patterned wallpaper near the doors to bring the outside in. We chose a warm, neutral colour palette with pops of green – and a mirror to reflect the colours and and movement from outside.
As you get further into the kitchen, it feels like a bistro with stone countertops, banquette seating, tiles up to the ceiling, mosaic floor and pale stone painted cabinets. The reclaimed wood touches and natural linen textures all blend with nature to help create the exact indoor/outdoor vibe we wanted.
How did you come to choose these particular tiles?
We first spotted Marlborough Tiles on Instagram. We loved the artisanal look of the tiles and after ordering samples, we completely fell in love with SoEmerald brick tiles from the Soho collection. They are the perfect shade of deep green for our project and the quality is outstanding.

What were the greatest challenges of the project?

The biggest challenge was the building work involved in opening up the back wall for the bifold doors. We had to wait for a builder with structural expertise to become available, and ended up doing the kitchen in two stages while we waited. We also chose to paint the cabinets ourselves using the paint sprayer... that took us three weeks!
Do you have any tips for our readers who might be embarking on similar projects?

Try to do all of the designing and planning before you start. That means choosing everything, including the small details like sockets, hardware and soft furnishings. If possible, get the space mocked up in 3D so that you get a feel for how everything will work together. Consider opening up the space by removing unused chimney breasts or stud walls. If you need wall cabinets, try having them all on one side of the room and keep the opposite side clear to reduce clutter.

Thank you Roxanne and Chris!
Discover more about the project on Roxanne and Chris's Instagram account, @vincent_the_house, and be sure to explore their saved highlights where you'll find links to many of the products used.

scroll-overwrite