Inspiration
Fit for royalty
Commemorative tiles from our archives
Here at Marlborough Tiles, we are proud to have a long tradition of designing one-off tiles to mark royal occasions tracing back 70 years. These commemorative works of art offer a wonderful way to remember these momentous events long after the occasion has passed. Keep reading to discover the hand painted tiles and murals we have crafted over seven decades to celebrate these royal events, including a special tile we have designed in homage to the coronation of King Charles III.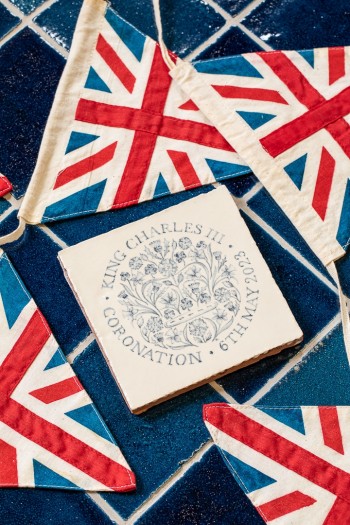 For the historic coronation of King Charles, our hand painters used the official emblem as a starting point for the design of this bespoke tile. This ornate design reflects Prince Charles' love of the natural world, depicting the flora of the four nations in the shape of St Edward's Crown. As this is an ornate motif, our hand painter Kirsty opted for the same glazed stain used to paint our Contemporary Classic Delft collection. Delft tiles are also traditionally highly decorative in style, and this subtle and timeless shade of blue allows the detail of the design to be enjoyed in its full glory. The motif has been painted onto a thick and characterful handmade biscuit, using our Valley tile from our Ullswater collection as the base colour to paint on.
This tile to mark King Charles III's coronation is the latest in our rich history in hand painting commemorative tiles. Our story actually begins with another coronation tile produced to mark Queen Elizabeth II's ascension to the throne in 1953. The trio of hand painted tiles depicts the Queen in the same Gold State Coach towed by horses that Prince Charles will travel in on 7th May. This is a cherished piece of our ceramic history which we are very proud to hold in our archives for future generations.

For Queen Elizabeth II's Golden Jubilee back in 2002, as with our most recent coronation tile, we opted for a traditional shade of delft blue. Blue is a regal colour deeply associated with loyalty and steadfastness, which seems fitting as qualities we revered in our longest reigning monarch. This commemorative tile from our archives depicts a profile of the late Queen Elizabeth exquisitely hand painted in the same glazed stain used in our Classic Delft collection, which is a deep blue with red undertones. This tile forms one of just 50 tiles we produced to mark her 50 years of reign.
As well as these smaller scale projects we have designed to celebrate significant moments in royal history, we have also worked on a larger mural. Ten years later for Queen Elizabeth II's Diamond Jubilee in 2012, a team of four hand painters designed a bespoke ten-foot-long mural depicting iconic buildings that line the historic market town of Marlborough. This was donated as a gift to Marlborough and was unveiled in the town hall by Camilla, The Queen Consort, where it now has a permanent home.
We hope you enjoyed this insight into our archives and reading about how our rich heritage in hand painting has played a part in celebrating momentous royal occasions over the years. If you would like to own your own small part of this history, we are delighted to share that we are gifting six of our King Charles III Coronation tiles over on our Instagram. To be in with your chance of winning one of these beautiful keepsake tiles, follow this link where you can find the full details on how to enter. From the whole team at Marlborough Tiles, we wish you a joyous weekend of celebrations.
scroll-overwrite