Inspiration
The summer blues
The colour of the ocean and of clear summer skies, blue is a truly classic choice in interior decorating.
Always calm and collected, from inky darks to bright gingham, there is a spectrum of blues to choose from across our collection.
In today's article though - and at the height of an English heatwave - we're diving in and sharing with you a selection of our favourite tiles in cool blue tones, to bring a sense of tranquility to your kitchen or bathroom project.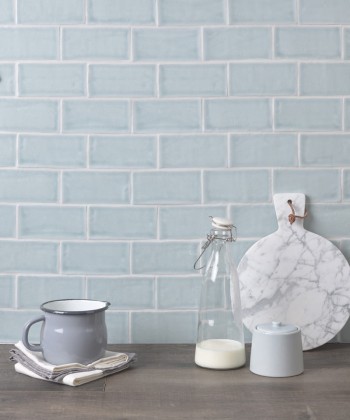 This icy blue-toned tile is SoSpruce brick from our Soho collection. With its freshness and subtle tonal variation, this tile brings to mind a dip in a cool pool on a hot summer's day. Use it in combination with clean, white cabinetry, chrome hardware and natural stone for a look that is at once classic and contemporary.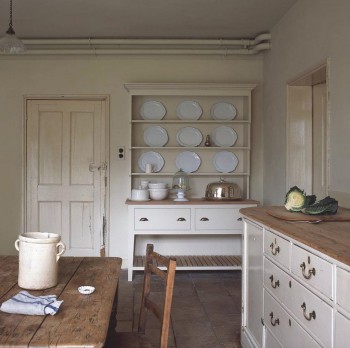 For real rustic charm, consider a tile with characterful texture and a little more green to its blue, such as this one, in Dapple from our Halcyon collection.
The Halcyon collection is a palette of eleven delightful heritage colours inspired by memories of childhood summers spent on breeze-blown English seashores. Each individual tile from the collection is crafted with a great deal of care and time, pressed into its wooden frame by hand, resulting in an organic, rustic finish with rough edges.
A quintessentially seaside shade, Dapple is quite simply in its element in a heritage-style kitchen such as this one, from Plain English.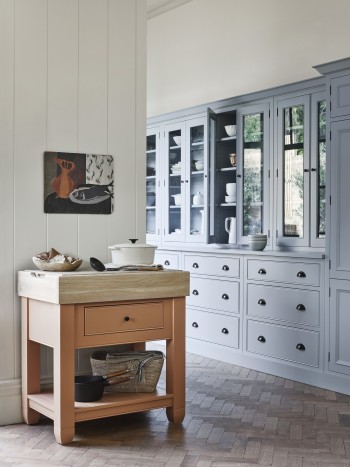 This earthy kitchen from Neptune combines their wonderfully warm, seasonal Burnt Sienna paint with raw woodwork and a calming cool blue to create a look that is both grounding and optimistic. Try it with our Savernake square tile in Silverless Street - a soft blue grey - for a look that sends the mind straight to the towns of historic Tuscany.

Blue continues to be one of our most popular colours, and you'll find no shortage of choice across our collections. If you're struggling to make a decision, help is at hand. Simply contact our design team who will be happy to assist you in selecting the perfect tile for your project.
scroll-overwrite
"Your service is outstanding and everyone is stunned by the result. I could not be more delighted."

Pat Jones
"Marlborough are a trusted collaborator to design unique tile collections which delight our customers"

Rebecca Malon, Head of Design and Product Development Neptune
"We are delighted with our stunning tiles - the colour and finish have brought our kitchen to life."

Nicky Sweet
"Over 20 years, our brand has relied on Marlborough for specialist colour and glaze development."

Colin Roby-Welford, MD of Fired Earth
"Superb! Great design advice on combining styles and colours. Thank you for going the extra mile."

Emma Todd