Butterflies
Etching-style butterfly tiles hand painted on small taco tiles measuring 6.3 by 6.3cm.
Can be used to add interest to an arrangement of larger tiles. The image can also be painted (at the same size) on larger tiles. Each is hand painted to order, hallmarked and signed by the artist.
The Hand Painted Tile
Add true individuality to the home with our hand painted wall tiles. Each stroke painted by hand onto raw glaze using the traditional Majolica technique, and then individually signed by the artist who painted it.
READ MORE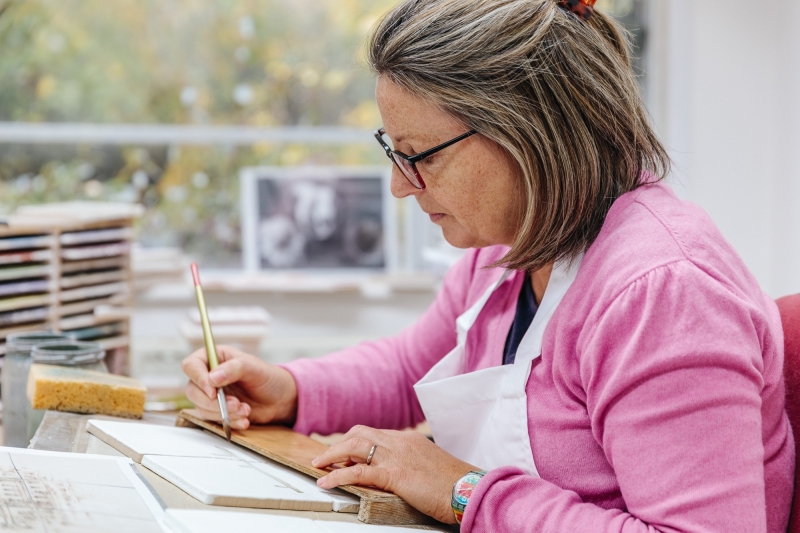 "An excellent product and superb service. Many thanks to Grace and Jamie from Marlborough"

Nick Lester, customer
"Handmade tiles with wonderful glazes; the craftsmanship, the beauty and the customer service."

Ephia Yasmin, customer
"Always visionary and ahead of the times from the outset."

Ben Spriggs, Editor-in-Chief, Elle Decoration
"Your service is outstanding and everyone is stunned by the result. I could not be more delighted."

Pat Jones, customer
"Marlborough are a trusted collaborator to design unique tile collections which delight our customers"

Rebecca Malon, Head of Design and Product Development Neptune
"Over 20 years, our brand has relied on Marlborough for specialist colour and glaze development."

Colin Roby-Welford, MD of Fired Earth