Pink is an increasingly popular colour when it comes to interior design, and while it might once have been considered a risky choice, used well, it is far from sugary sweet.
In the right environment, pink is in fact a timeless and uplifting neutral. It will flatter or accentuate a variety of looks, from romantic, to vintage, to playful.
In today's article, we share some beautiful palettes that include pinks, and look at some of our favourite ways to incorporate this trending colour into your kitchen using tile.

PINK AND NAVY BLUE

Dark blue and dusky pink really do bring out the best in each other in this dramatic and unexpectedly grown up combination.
Here, navy cabinetry is complemented by square tiles in Wild Rose from our Halcyon collection, arranged in a grid layout. The rustic, handmade body of these tiles in particular has an aged feel, adding texture and traditional charm, while white grout brings a sense of freshness.
This comforting palette is complemented by the golden tones of natural stone-effect flooring, high shine, brushed nickel hardware, and natural wooden elements.
PINK AND GREEN
If you're in love with the Wild Rose tiles, but would prefer a more light and uplifting look, consider pairing them instead with pale sage green cabinetry and neutral walls. Add a delicate, decorative touch by dotting through a few Ettie patterned tiles in the same tone.
White grout and polished chrome hardware will create a clean and contemporary feel.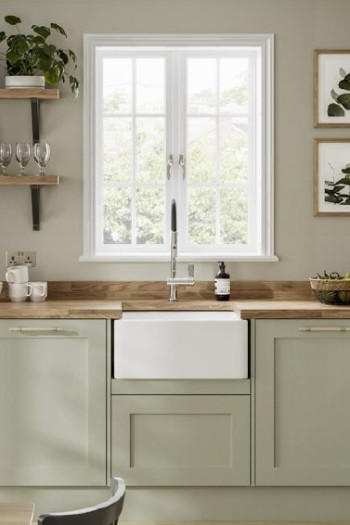 Alternatively, consider introducing brass pulls and taps for a more rustic look, with which limestone grout would be a lovely, warming addition.

In terms of colour theory, green and pink are complementary, and while not every combination will make the perfect pairing, there are lots that will.
For example, an olive green kitchen with a paler toned pink tile such as this one in Blush from our Halcyon collection creates a muted and delicate palette that has a real vintage character, accentuated here with aged brass hardware.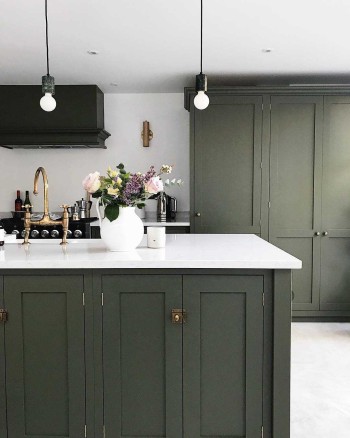 PINK AND BLACK
The pink glaze of Heather Bank medium brick tiles from our Seasons collection includes a touch of blue. Pair this tile with dark timber and earthy neutrals to create a seductive palette that brings to mind the glow of autumnal sunsets.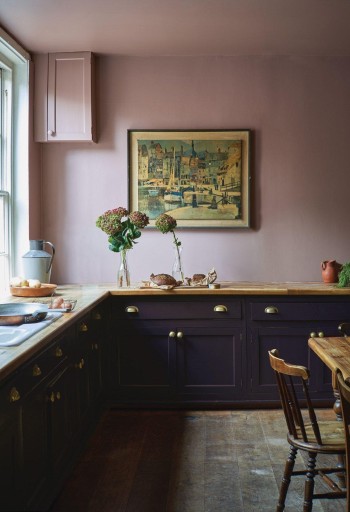 As a final note, don't overlook the impact that your choice of grout colour can have on the overall feel of a space.
Below we have paired the same tile – Heather Bank medium brick tiles from our Seasons collection – with a kitchen that features dramatic black cabinetry and walls in a neutral buff.
While medium grey grout brings out the bluer tones of the tiles above, coupling the same tiles with jasmine grout brings out their yellow tones, creating a peachy look as shown in the image below.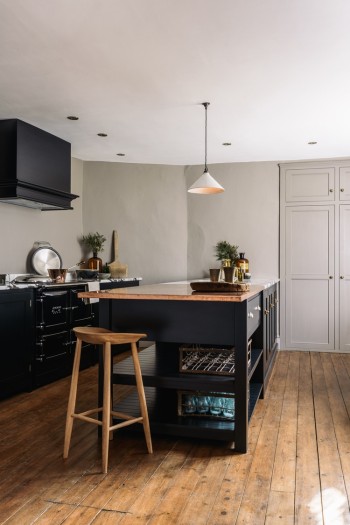 scroll-overwrite
"Always visionary and ahead of the times from the outset."

Ben Spriggs, Editor-in-Chief, Elle Decoration
"Your service is outstanding and everyone is stunned by the result. I could not be more delighted."

Pat Jones, customer
"Marlborough are a trusted collaborator to design unique tile collections which delight our customers"

Rebecca Malon, Head of Design and Product Development Neptune
"Over 20 years, our brand has relied on Marlborough for specialist colour and glaze development."

Colin Roby-Welford, MD of Fired Earth
"We are delighted with our stunning tiles - the colour and finish have brought our kitchen to life."

Nicky Sweet, customer
"Superb! Great design advice on combining styles and colours. Thank you for going the extra mile."

Emma Todd, customer