Practical tips
Brick by brick
An essential guide to brick shaped tiles across our collections
Metro tiles, subway tiles, call them what you will, we're sure you'll agree that the brick-shaped wall tile is a true design classic.
At Marlborough, we offer no fewer than five perfectly proportioned brick shapes and sizes across our collections, in an array of exquisite glaze colours and finishes.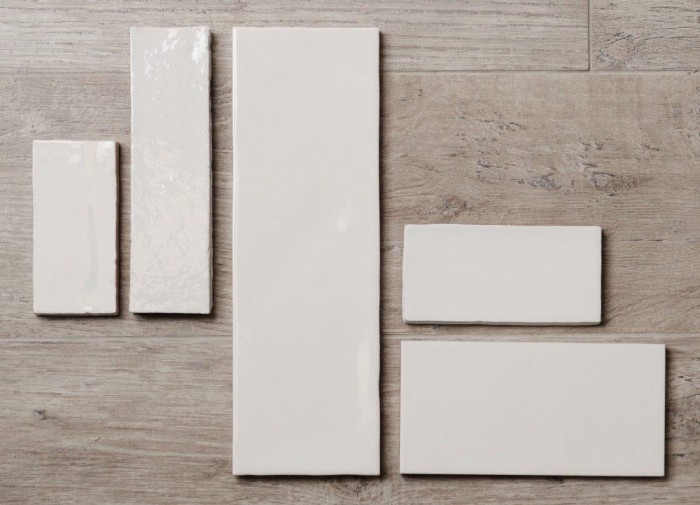 From left to right: our small brick, skinny metro, long brick, medium brick and large brick tiles.
Let's take a closer look at each of the options shown above, and explore some of the unique design opportunities that each size offers when it comes to creating a beautiful, distinctive look for your space.

11 x 33.5cm
The long brick tile
A larger tile creates fewer grout lines, and a look that is both clean and spacious. Our long brick tiles measure in at 11 x 33.5cm, and have a cool, contemporary feel. Their large format means that they are very well suited for use over an entire wall, such as in a wet room.
Tiles in this size are the perfect addition to a Shaker-style kitchen, and are particularly well suited to the space above a range cooker.
Find them within our Cool Companions and Latitude collections.

6 x 21cm
The skinny metro tile
Skinny metro tiles have been very popular over the last year or so, and this is our considered take on the trending shape. We have paid close attention to the balance of the tile's proportions, and at 6 x 21cm, it is a touch longer than most, and narrower, making it easy on the eye and striking a beautiful visual balance when installed, between grout line and tile.
Find them within our Isles, Marlborough Matts and Kennet collections.
6.3 x 13cm
The small brick tile
Our smallest bricks work well in a restricted space where they make a big impact. The increased number of grout lines creates visual interest that attracts the eye, and their petite 6.3 x 13cm size means they won't ever feel blocky.
Find them within our Aged Crackle, Contemporary Classics and Savernake collections.
7.5 x 15cm
The medium brick tile
One of our most popular tile sizes, this 7.5 x 15cm classic metro brick tile is a choice that's easy on the eye and sits well in a wide variety of different spaces. This size can be used to wonderful effect with many layouts – from brick bonds to herringbone pattern. A dependable choice.
Find medium bricks within our Marlborough Matts, Aged Crackle, Posterity, Seasons, Soho, Underground and Vintage collections.
10 x 20cm
The large brick tile
Our large brick tiles measure 10 x 20cm. Fewer grout lines mean that they can fill entire walls comfortably without ever making a space feel busy.
Being larger, these tiles are easy to lay and give a precise, neat look. Their traditional size and timeless appeal suit both classic and contemporary interiors. Kitchen units tend to measure 60 x 60cm, and these tiles divide neatly into those dimension, which can be useful when designing your space.
Find large bricks within our Simplicity collection.

We hope that this short guide to our brick wall tiles has helped you to narrow down the perfect tile shape for your project. Of course, if you're looking for wall tiles in other shapes, such as squares, scallops and hexagons, you will also find those within our collections.
As always, if you would like further guidance, advice, or just a second opinion, please do not hesitate to get in touch. Our design team is on hand to help.

scroll-overwrite