Inspiration
Wanderlust: travel inspired tiles to take you away
Whether you will be jetting off to distant shores this summer or enjoying a staycation closer to home, your choice of interior decoration offers a fantastic opportunity to bring the essence of far-flung places to your living space.

Read on to discover handmade wall tiles and porcelain floor tiles that will infuse your space with the spirit of travel – from the rustic charms of Spanish village life, to the rugged natural beauty of the Scottish Isles.
PORCELAIN FLOOR TILES
Sunbaked terracotta
The warm, earthy hues of these rustic floor tiles will transport you and your family to the sunbaked villages of rural Spain.

While they look and feel just like real terracotta, these exquisite tiles are in fact made from porcelain, meaning that they are extremely durable, long-lasting and easy to clean. They can be used outdoors, or inside with underfloor heating, so you can bask in their warmth all year long.

The Andalucia collection is available in a range of shapes and sizes, and in two different tones. In the image above, small brick tiles in Seville have been laid in a parquet or herringbone arrangement.
HAND PAINTED WALL TILES
Amalfi-inspired
The Ana collection will bring the vibrancy of the Amalfi Coast to your home. In fact, it was on a sailing trip with their families that Sims Hilditch founder and leading interior designer Emma Sims Hilditch and our Managing Director Jamie Robb were inspired to collaborate and create the collection.

"Everywhere you look in Capri, you see decorative tiles in bold patterns and beautiful, vibrant colours," says Jamie. "They cover every wall, every doorstep and floor, and they look absolutely stunning in the warmth of the Mediterranean light."
The resulting collection features a timeless, hand painted pattern in the Mediterranean style, available in five soft colours that have been created to suit the light we have here in England.
Pictured above, Ana tiles in Amber add vibrancy and charm to the windowsill and washstand in the bathroom of Emma's Wiltshire home.
PORCELAIN FLOOR TILES
En Provence
Are you dreaming of the hazy tranquility of the South of France? Our French Limestone collection of porcelain flagstones faithfully renders the sunbaked ancient stone floors of Provence, with their subtle undulations, charming irregularities, and blend of silver and honeyed tones.

Thanks to the cutting edge production methods pioneered by our manufacturing partners in Modena Italy, these porcelain floor tiles have an extraordinarily realistic three-dimensional texture that is virtually impossible to distinguish from natural stone. They are suitable for use indoors and out, and are available in four different sizes.

Handmade wall tiles
Hebridean hues
Escape to the Hebrides with our latest collection, inspired by the by the dramatic colours and rich textures that characterise Scotland's lochs, moorlands, mountains, and coastlines.
Each of the seven colours within the Isles collection is made up of numerous layers of glaze in different hues and weights, as well as a variety of different oxides which cause specific reactions and textural irregularities. As a result, tones shift gently across the surface of the tiles. The overall effect is quite extraordinary – an ode to the rich colours and the boundless beauty of the landscape that inspired the collection.
The tiles featured in this stunning outdoor shower area are Skye – a fresh, uplifting green with burnt orange undertones, reminiscent of the soaring Cuillin ranges.


HANDMADE WALL TILES
Contemporary coastal
Bring the Cornish seaside to you this summer, with this laid back take on the classic coastal kitchen.

With their matt finish and larger than usual size, these moody grey-blue hexagon wall tiles in Dogger from our Latitude collection bring a thoroughly contemporary feel to this white Shaker-style kitchen. Their network of white grout lines create a pattern that bring to mind the crests of waves on a choppy sea.
We have paired these tiles with mid-toned Weathered Oak planks in Almond which – together with the modern seagrass accessories – have a grounding effect, adding warmth and rich texture.

HAND PAINTED TILES
The Dutch blues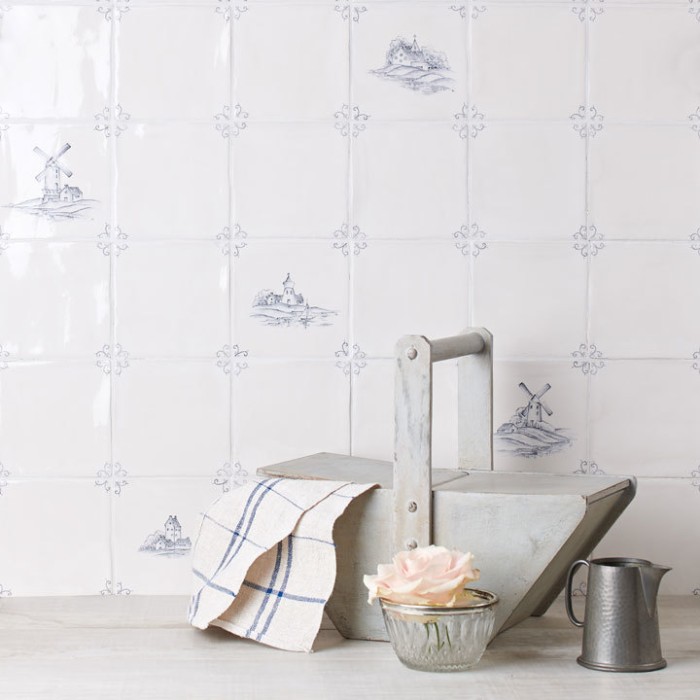 One of the most distinctive, sought after and instantly recognisable styles of decorative ceramics, Delft tiles traditionally feature hand painted portraits and pictures of everyday life in Holland, all painted in that characteristic blue.
At Marlborough, we are proud to have been painting Delft tiles by hand in the traditional Majolica style since we were founded in 1936. Within our range, you will no fewer than six Delft collections, including images of flowers, windmills, boats, figures and landscapes.
We will soon be expanding our collections to include even more beautiful designs. Subscribe to our newsletter and be the first to know when they become available.

scroll-overwrite