Inspiration
The benefits of ordering tile samples
We are often asked by our customers whether we recommend ordering samples before beginning a design project; our simple answer is always yes. Samples are an invaluable way to get a sense of the overall look and feel of how your tiles will look when laid. From the rich pool of glaze, to the tactile quality of our handmade biscuit, we strongly believe our tiles must be seen and felt to be believed. Ordering a sample allows you to do just that; by viewing our tiles first-hand, you get a truer sense of their unique colour, texture, and finish. Keep reading to discover the benefits of ordering our tile samples, and our advice on how to make the perfect choice...
We always try to accurately reflect any colour variation our photography, but we believe seeing our tiles on screen alone simply doesn't do them justice. From the subtle undertones to delicate hand-painted brushstrokes and inherent handmade charm, the beauty of our tiles is all in the details. It's also helpful to understand how the colour of your chosen samples harmonises with the rest of your design scheme. Place the tile alongside your soft furnishings, sanitary ware, cabinetry and chosen paint colour, and this will help to visually guide your choice. If you need further inspiration on what shade to opt for, our Colour Guide shares the full spectrum of our richly coloured glazes.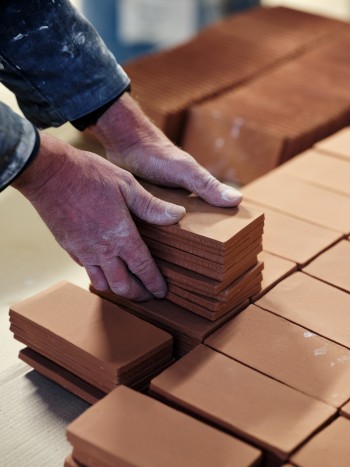 We believe the unique nature and handcrafted quality of our tiles is what makes them so special. No two of our tiles are exactly alike, and this is due to the traditional production techniques we use to craft our artisan tiles. Each of our glazes is individually mixed from our bank of raw pigments and stains, before passing through a waterfall of glaze, resulting in an incredible depth and vividness of colour. We take a similarly specialist approach to the characterful body (or "biscuit") of our tile, which is crafted from the finest clay. Ordering a sample will allow you to feel first-hand the reassuring weight of the tile and appreciate the subtle undulations in the surface and richness of colour. To read more about the process of how our tiles are made, read about our craft.
When viewing your samples in situ, another important factor is layout. For floor tiles, look at your sample lying flat on the floor. For wall tiles, prop it against the wall you intend to tile. We offer an extensive range of different size tiles, from classic squares to skinny metro bricks and hexagons. Each of these can be arranged in a variety of layouts from basketweave to herringbone so have a read of our Playing with Pattern article for inspiration.
Another consideration is what room in your home your tiles will be laid. Sample tiles placed in a north facing room that receives minimal natural light, will look very different in colour to a tile that receives an abundance of light. See how your tiles respond to changes in natural light throughout the course of a day and take photos to check for shadows or glare. We also recommend observing your tiles under artificial light, as the difference can be quite significant. This will allow you to make an informed decision on what sample will look best in a particular space.
___
We understand that choosing your perfect tiles is an investment and takes time to make the right decision. We are here to help and answer any questions you may have, and if you need further help with deciding how to lay your tiles, we offer a design service. To place your order of up to four free samples, simply select your wall tile of choice direct from our website and this will be with you in 3-5 working days.