Inspiration
Pattern layouts to inspire your next project
From intricate herringbone to classic half brick bonds, there is a huge variety of pattern layouts to choose from when planning a project using a classic brick tile. As well as adding creativity and individuality, clever use of pattern can influence the perception of the size of any space.
Here, we've gathered a handful of our favourite ways to lay out brick tiles. Read on to find out more - and if you'd like some help choosing a tile pattern for your project, our design team is always on hand to help you. Simply get in touch.

Herringbone
This wonderfully classic pattern features tiles angled at 45 degrees to create 'V' shaped rows. This graphic look can be enhanced with contrasting grout colours, as shown here with our Savernake brick in College Fields.

The direction of your herringbone pattern will have an effect on the way the space within the room is perceived. Vertically arranged lines will draw the eye up to create the illusion of height, while running the herringbone horizontally will widen the space. You can use bricks in a herringbone pattern throughout a space to create a cosy feel or couple them with a plain 13x13 tile on side walls for a more contemporary look.
Basket weave

A basket weave pattern places horizontal and vertical bricks at right angles to one another, lending a modern, geometric appeal to a space.

This layout brings a touch of character to an accent wall, and is particularly lovely when used in a small area such as above a sink or an aga.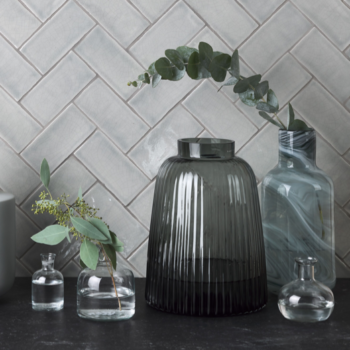 Half, quarter and third brick bonds
With its clean, simple lines, the classic 'subway tile' look is both striking and easy on the eye. With a half brick bond, tiles are arranged with each row of bricks staggered halfway across the row above. You can also consider offsetting each row by a third or a quarter of a brick instead. Aligning your bricks vertically in the same way will create a bold, statement look for a feature wall.
Grid

A grid layout offers a modern twist on the classic brick bond look. Here, tiles are stacked directly on top of one another, creating a clean and simple linear pattern. Bricks can be stacked on top of each other vertically to add height, or horizontally to elongate the space.
Are you planning your next interiors project? Whether you're inspired or unsure where to start, our design team is on hand to help you.

scroll-overwrite
"Your service is outstanding and everyone is stunned by the result. I could not be more delighted."

Pat Jones
"Marlborough are a trusted collaborator to design unique tile collections which delight our customers"

Rebecca Malon, Head of Design and Product Development Neptune
"We are delighted with our stunning tiles - the colour and finish have brought our kitchen to life."

Nicky Sweet
"Over 20 years, our brand has relied on Marlborough for specialist colour and glaze development."

Colin Roby-Welford, MD of Fired Earth
"Superb! Great design advice on combining styles and colours. Thank you for going the extra mile."

Emma Todd