Wall tiles
Dive in and discover our collections of British-made artisan wall tiles, crafted by hand since 1936 at our factory in Marlborough, England.
Our wall tiles offer the very best in British design and craftsmanship. Each one represents the sum total of experimentation, learning, technique and passion passed down for generations.

Handmade wall tiles
Within our collections you'll find handmade wall tiles in a spectrum of exquisite colours. Our glazes are renowned for their depth and complexity – which is why interior designers and homeware companies choose us to make their products for them.
Whether you're looking for plain white tiles, richly coloured tiles, tiles with relief designs or individually hand painted tiles, and whether your aesthetic is clean and contemporary or rustic and traditional, you are certain to find the perfect choice within our collections.
We offer a variety of tiles suitable for any room in the house, from
bathrooms, wet rooms and showers to kitchens
and fireplace surrounds.
Practical tips
Our world of colour
Within our collections you will find an extraordinary array of colours and tones – from the deepest greens to the softest grey-blues, to rich plums and dark wine reds...
Discover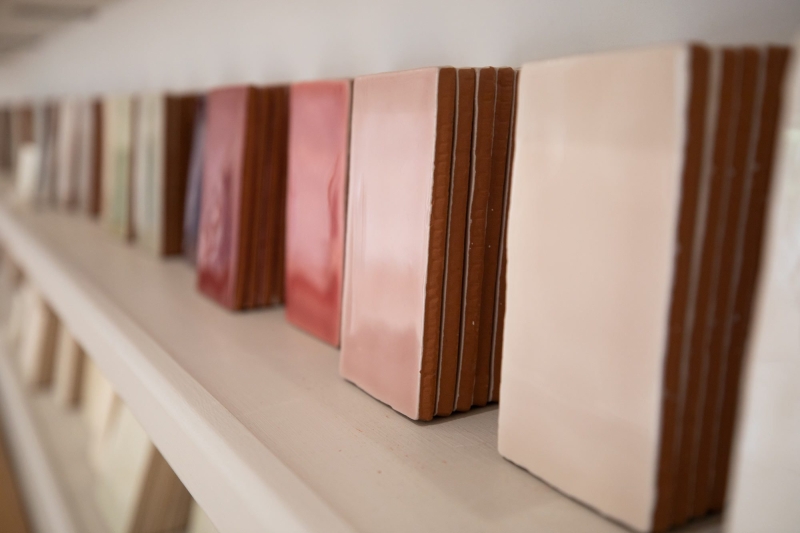 Our wall tiles
In real homes

Seeking inspiration for your next project? Visit our gallery to discover an array of images of handmade and hand painted wall tiles in real homes.
VISIT THE GALLERY
scroll-overwrite