Inspiration
Harriet and Oli's inspired renovation
One would be right to expect that as art director for Soho Home, Soho House, Harriet Howarth's own home would be both beautiful and inspired. So we were very pleased when Harriet and her fiancé Oli invited us in to take a closer look at their newly renovated hallway and bathroom, featuring our floor and wall tiles.
The house, a Victorian terrace in London, had been a family home for around eighty years before being converted into three individual apartments. As is often the way with conversions, this meant that when Harriet and Oli bought their home last summer, the floor plan was not quite optimal.
"At that point, upon opening our front door, the first thing you saw was the loo," Harriet recalls. "We knew the flat needed work, but it was clear that it had good bones. We were looking for a project, but nothing too big, and behind the grey carpets and yellow painted walls were some beautiful original Victorian features."
"So often, especially in London, people try to cram as much as possible into one space. We wanted to treat our home like a larger house - to have lovely big spaces, just fewer of them. We could have turned the bathroom into two en suites, but that would have meant compromising on a bath, which for me is non-negotiable!"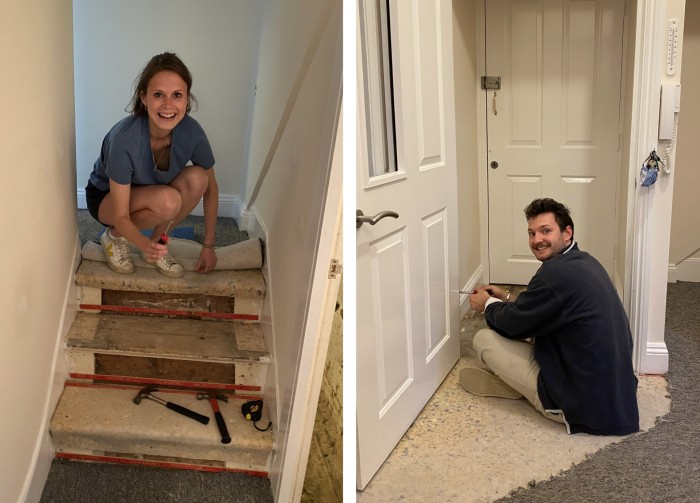 The hallway and bathroom were the couple's first port of call. They began by removing an unnecessary second door in the hallway, and raising the height of the ceiling in one section to level it out. "Those two things completely changed the space, making it feel so much lighter."
Their next step was to completely rip out the bathroom, removing a small wall and turning around the whole layout to make the most of the space. "There are many ways to section up a space without putting up walls," Harriet says. "We opted to use colour to divide and connect spaces, and did that through the use of different tiles, choosing a darker colour, Woodland, for the shower area and a lighter colour, Willow, for the rest of the space, including around the bath."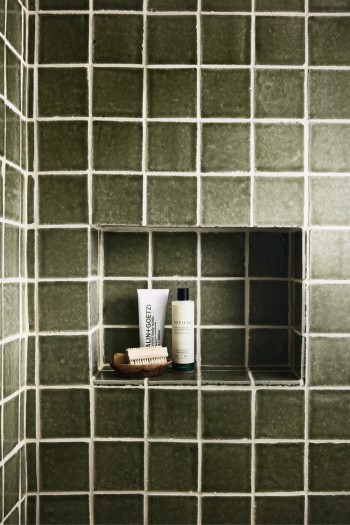 "I see a lot of different homes and interiors each day through my work with Soho Home, so we had a good idea of what we wanted. The greatest challenge of any interiors project is choice. There is so much out there! We started by narrowing it down to a few key favourite brands. You can't look at too many otherwise it becomes overwhelming. We decided that we would source the tiles from Marlborough, because we knew that whatever we chose, the quality would be really good and they would look special too."

The couple opted for a green bathroom, choosing tiles in soft and earthy tones from Marlborough's Ullswater collection. "I love the handmade, 'perfectly imperfect' quality of these tiles," says Harriet. "The way that each one is slightly different, and that they don't line up to the exact millimetre. Working with different shapes, sizes and textures really helps to add character when it comes to a potentially plain space like a bathroom. When we installed the tiles, they injected so much life into the space, completely transforming it."
For the floors, Harriet and Oli chose terracotta effect hexagon porcelain tiles in Granada, from our Andalucia collection. "We opted to run the same floor tiles through the hallway and into the bathroom to create the illusion of space, says Harriet. "They complemented the wall tiles beautifully, really warming the space. Just as importantly, we knew that once they were down we wouldn't need to fuss about the tiles because porcelain tiles are so practical. There's nothing worse than having to be precious about your home. You've got to use it and enjoy it."
Key to the overall feel of the space is the lighting. "Lighting changes everything," observes Harriet. "Ideally, you want a few different levels of lighting, and in this case, wall lights and ceiling lights were a must. If our bathroom were bigger, we would have loved to have a vintage pendant over the bath. You need to be able to dim the lights for evenings relaxing in the bath, and then turn them up for putting on makeup."
When asked about her design style, Harriet tells us, "I wouldn't say that we have a particular aesthetic. Rather, whatever your style, I think it's important to work with the history of the building. Often, that means putting back original features that previous generations removed - things like cornices and ceiling roses in a Victorian building, for example."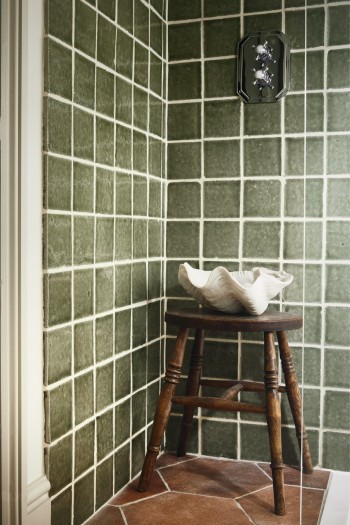 "Equally when choosing furniture I love to mix the old with the new to create a cosy atmosphere - something that feels like it has real personality. We approached the refurb this way. It's the reason we chose these floor tiles; they had a lovely lived-in quality, and felt at home as soon as they were down. Half way through the fitting, someone walked past and asked if they were the original tiles. That was the highest compliment! We're so happy with how the space has come together."

___

Many thanks to Harriet and Oli for sharing their beautiful project with us. If you've been inspired by their renovation and would like a little assistance in planning your own design project, please get in touch. Our design team is here to help.
scroll-overwrite