Inspiration
Artful living
In 2016 Nic and Sophie Mogford-Revess purchased an asbestos-clad 1950s bungalow in Surrey. The couple fell in love with the property's elevated position, extensive gardens, and far-reaching views over the Bourne Valley.

After exploring their options, the design-minded pair took the decision to knock down the original structure completely. In its place, they built the stunning and unique architectural home you see here.
In today's article, we talk to the couple about their choice to place independent British makers at the heart of their project, about how art informed their colour scheme, and about the small matter of knocking your home down just days before the announcement of a global pandemic…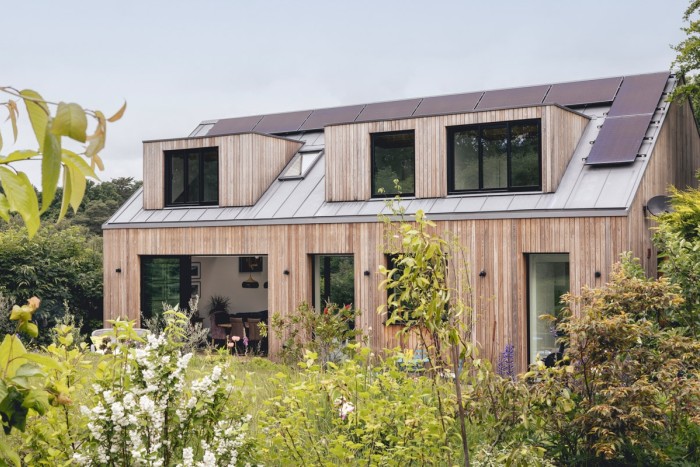 Hi Nic and Sophie, thank you both so much for talking to us today. Perhaps could begin by telling a little about the original property…
As we explored our options, we learnt that in addition to the asbestos, two of the walls were not structurally sound and we would need to replace the roof. It became clear that unfortunately it would be best to knock the old property down entirely and start again.
Nonetheless, we did want to keep some of the design features of the original space. The project was delayed several times, and in the end, we lived in the property for three years before getting started. This gave us such a good insight into what worked – like the front to back aspect which allows so much light in and which really makes the most of the plot.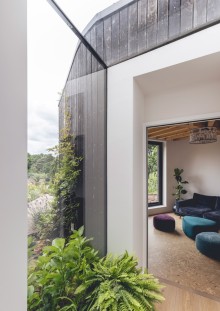 The results are truly remarkable. Where did you start when it came to the interiors?
Nic loves to cook, so the kitchen was his domain. And Sophie loves her bath, so finding the right tub was vital.
For the kitchen, Nic was determined to design a really attractive space but also one that was highly functional. A great deal of time was spent working out how we could create a sense of flow in this area.

And how did you go about creating your colour palette?
Having lived with avocado, brown and pink combinations for three years we were ready to move on! What we did not want though was a bland colour palette.
We both love big pops of colour and looked to the artwork we wanted to hang in the space for inspiration.
For example, we chose our kitchen cabinets based on the colours in the beautiful Margie O'Brien painting of figs that we now have hanging by the oven. We had originally planned to use a stainless steel splash-back there, but having seen a sample, decided it looked too clinical. We held up a sample of the Wight tiles from Marlborough's Latitude collection and it was a Cinderella moment! They just looked perfect.
Elsewhere in the house we also have two pieces by another local artist called Fiona Pearce, and a lovely original print from an award winning children's illustrator, Dong Yang who is also local to Farnham. Sophie is also an accomplished artist and creates landscapes in strong, bold colours.

The space really does feel one of a kind. How did you achieve that?
Our architects at Sketch were fantastic and added some really interesting and unique features, such as the floor to ceiling window in the shower room which looks out onto a small private courtyard garden. We also added double pocket doors to the ensuite of the master bedroom to maximise the views of both the north and south aspects.
Using artisanal, handmade products throughout the project was really important to us, and we knew from the outset that we wanted to work as much as possible with independent British makers. If you use generic, mass produced components, you will get a generic result. On the other hand, using artisanal handmade products results in a unique and bespoke feel which you really can't replicate. In our experience, you will also get much better and more personal service from that kind of business.

For those reasons, Marlborough Tiles was a perfect match. We fell in love with the handmade qualities of the tiles and the extraordinary range of colours.

We're so pleased to hear that. You made some beautifully bold choices in the bathrooms - how did you choose these tiles in particular?
Covid posed so many issues during the project, especially when it came to selecting materials. You never quite get a true feel for colours and textures when viewing them online. But when lockdown eased, Jamie was great about arranging a time for us to visit the showroom safely, and even gave us a tour of the factory. It was incredible to see the attention to detail that goes into every aspect of making the tiles – from mixing the beautiful glazes, to finishing the tiles by hand as they come off the kiln.
What Jamie perhaps did not expect was how long it would take us to choose! We knew right away that we wanted tiles from the Kensington collection for the bathrooms, because we love their handmade texture. But settling on the right colours was a different matter. We must have been there for hours! On Jamie's advice, we took a selection of samples home to look at them in the space itself.
Seeing the way the light in each room worked with the colours was awesome and really helped us to make a decision. We quite quickly settled on Victorian Green for the bathroom, and a wonderful dark blue - Dusk - for the shower room. In both those rooms, we chose the other furniture and colours based on the colour of the tiles.

Tell us about some of the other British artisans and makers you worked with…
In addition to the artists mentioned previously, we had a number of specialists work on different aspects of the house. Our carpenter was incredible - he did all of the woodwork throughout the building including the bespoke wardrobes and cupboards.
Our beautiful staircase was made by DDC London. They were excellent to work with, and did such a good job on a very important part of the build.
We chose wallpaper by Nat Maks for one wall of the downstairs bathroom. Nat is a British designer based in Kent, and is known for creating innovative wallpaper designs that combine traditional techniques with contemporary colour palettes.
What were the greatest challenges of the project?
Accessing the site itself was not easy. There are 39 steps leading to the property, which provides amazing views from the top, but meant that every item had to be hand carried up. It was a real labour of love. We did a chunk of this ourselves to reduce costs, and remember cursing the weight of the tiles as we did yet another journey up the stairs!
That aside, the project ran remarkably smoothly which is a testament to the great work of our builders and the architect, who handled the challenges thrown at them by Covid.

Do you have any tips for our readers who might be embarking on similar projects?
Don't rush! Our project was delayed for numerous reasons but it did mean we lived in the old house for 3 years. This gave us such a good insight into the way the house would sit on the site and the changing light and views throughout the year. It really shaped some of our design choices.

Our only other tip is… don't knock your house down one week before a global pandemic is declared!

___


A huge thank you to Nic and Sophie for sharing their story with us.

We love nothing more than seeing your completed interior design projects. If you would like to see your home featured here, simply tag @MarlboroughTiles in your project photographs on Instagram.

scroll-overwrite