Inspiration
Add a little Christmas magic to your kitchen
At Christmas, perhaps more than at any other time of year, the kitchen is where the magic happens. Full of the hustle and bustle of food preparation, it's also the place where people congregate, where mince pies are nibbled and mulled wine is sipped.
Yet while lots of us focus our seasonal decorations in sitting rooms, dining rooms and hallways, our kitchens are often overlooked.
In today's article, interior design stylist Janie Brown shares some simple, effective yet practical ways to sprinkle a little magic into the heart of the home this Christmas.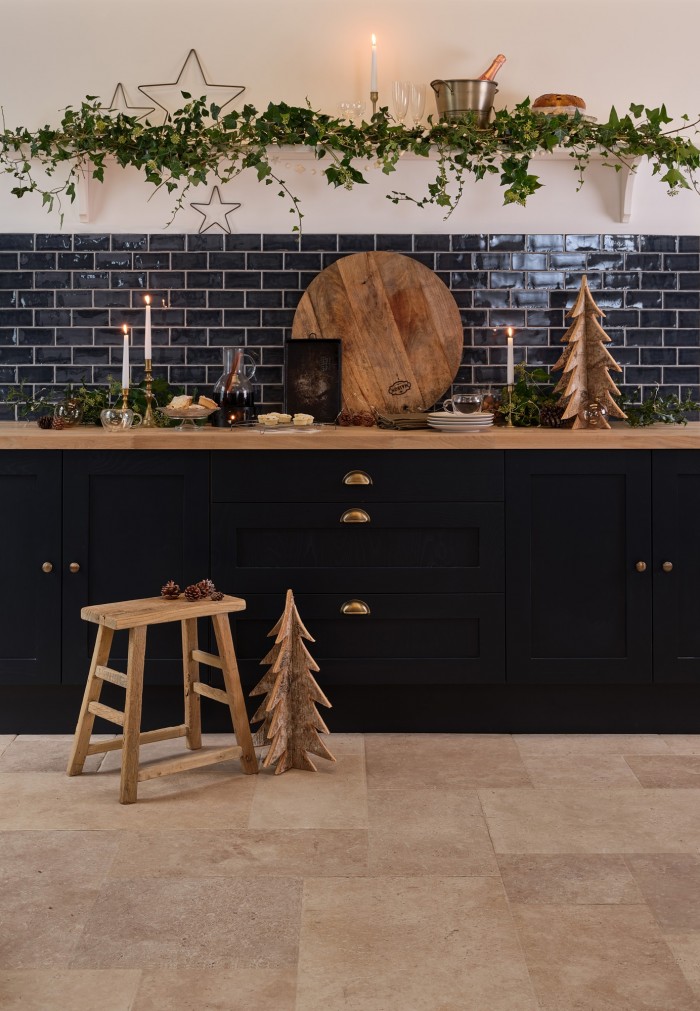 Your home should reflect who you are at all times of year, says Janie, so don't feel tied to the traditional red, green and gold palette at Christmas if it's not for you. Instead, look to the colours already within your kitchen and work with them to create your festive look.
In this classic navy blue kitchen Janie has chosen to accentuate what already exists, adding simple, sculptural decorations in natural wood to match the oak countertops, along with aged brass details such as candlesticks and elegant stars to complement the beautiful cupboard hardware.
Swathes of foliage with twinkling fairy lights on a high shelf draw the eye up, while maintaining plenty of functional space for food preparation.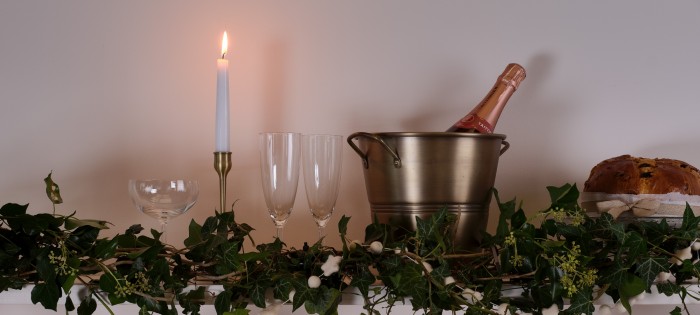 The great outdoors are the source of some of the loveliest festive decorations, says Janie. Head to your garden or a nearby woodland and gather lengths of evergreen foliage. Holly and ivy, spruce, pine and fir are classics, and for something a little different, both privet and laurel look beautiful. Janie recommends choosing longer pieces which can then be cut down at home. (Though please be sure to forage responsibly, and always ask the landowner for permission.)
Simply bunch together your stems and arrange on high shelves or in baskets, securing them together with cable ties and adding a sprinkling of twinkly lights to create wild and wonderful garland. The foliage will last around two weeks, so Janie suggests adding these pieces close to Christmas, or accepting that some lengths may need to be refreshed down the line.

Rather than hiding away your Christmas foods in cupboards, bring out your most beautiful cake stands and dishes, and pile them high with an abundance of tasty treats. The trick, says Janie, is to make sure things are easy to move as needed.
Perhaps a big bowl of vibrant clementines and pomegranates, a plate towering with mince pies or gingerbread, and a fat chopping board laden with Christmas fruits and candles. Pull out your nicest bottles of sherry and port, and display them on a silver tray with a string of twinkling lights, a sparkling bauble and your best glasses.
A large centrepiece on a kitchen table or island isn't alway practical - especially on Christmas day when the table is laden and space is at a premium. Instead, Janie suggests keeping your tablescaping simple, and instead decorating around the edges of the functional space - perhaps hanging a centerpiece above the table, or adding a festive touch to the backs of dining chairs with small wreaths or sprigs.

Finally, nothing says Christmas like too many twinkly lights and candles, says Janie, although save scented candles for the rest of the house, away from the spaces where food is prepared or eaten. Pop candles in lanterns or large glass jars to ensure they're kept at a safe distance from the action, and to create a little extra reflective sparkle. Window sills are the perfect spot, creating the most inviting glow to greet your visitors.
____
This dark navy blue kitchen features Savernake brick tiles in Figgins Lane.