Bespoke, hand-painted tiles
Back in the 1930s, our two female founders — artists named Silvia Packard and Rosalind Ord — discovered that their mutual love of hand painting ceramic tiles could earn them a living. We have been painting tiles by hand ever since.

Silvia and Rosalind were masters of a traditional fifteenth century technique called majolica which involves painting designs freehand directly onto unfired glaze. As their business grew, Silvia and Rosalind trained their apprentices in the same techniques. Their skills were passed down for generations, and today — eighty five years later — our small team of hand painting artists continue to keep those traditional methods alive.
In today's article, we sat down to talk to Jenny, one member of our three-strong hand painting team, to talk about the process of creating bespoke panels for our customers.

Hi Jenny, thank you so much for talking to us today. Tell me, how long have you been working at Marlborough Tiles?
I've been here for nearly fifteen years. The time has flown, so I must have been having fun! This is by far, the longest I have worked anywhere, and so long as the optician can keep my eyesight sharp, I don't plan on stopping!
Can you tell me a little about your background and your training as an artist?
I studied art as part of my degree course, working predominantly in watercolour and preferring still life and portraits. Although my career path led me elsewhere, I continued to paint and draw, and to do the odd commissioned piece. When I applied for the role with Marlborough Tiles, I was so pleased that my drawing, design and watercolour skills would transfer so readily to working with tile.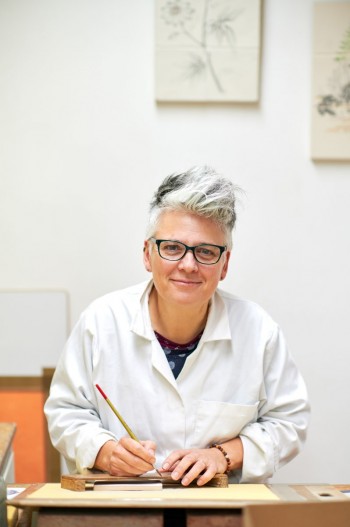 Tell me about your training — how did you learn the majolica technique?

It can take up to six months to become confident and proficient enough with the majolica method. It's about practice, practice, practice. Helen taught me everything I needed to know and I absolutely loved learning the process and working with other artists, so I persevered.
The training is intense! I remember a few weeks in, watching Helen skilfully create a cockerel panel and looking down at my attempts to paint an insect, thinking that I would never, ever reach her level.
Eventually, I was ready to paint my first order. It wasn't a cockerel panel thankfully, but I was very proud to start to see my artwork on our customers' walls. Over time, as my confidence continued to grow, I took on bigger challenges and now I've lost count of the number of cockerels I've painted!
What does a typical day look like for you?
My days are spent in the studio, painting with Helen and Kirsty. All of our hand painted tiles are painted to order in the majolica method, so each design is first painted onto the raw surface glaze.
We then transport it (carefully!) to the kiln, and then the tile and the design are fired together. It's not a standard kiln and the tiles take more than an hour to travel its length. Once cooled, the tiles are checked for quality. If any irregularities have occurred in the firing process, a tile will be repainted — sometimes several times!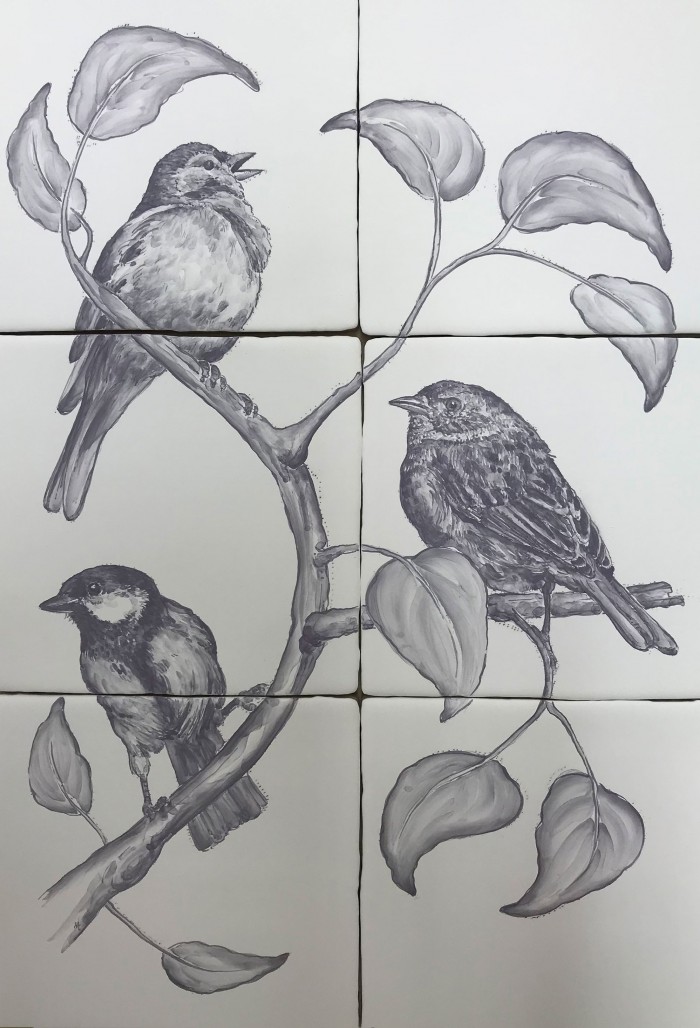 Can you share a little about the process of working with a customer to create a bespoke piece?
Of course. Quite often customers come to us with a clear vision, so the first stage is to fully understand the brief. Occasionally the brief is really open, which gives me a chance to be extra creative! We discuss various options and then I begin by creating a sketch for composition and a sample tile for colour reference.
Once the final design is agreed, I start work on the tiles. We keep a stock of glazed but unfired tiles, which is the base of the majolica method, and use a variety of colour pigments to paint on the raw glaze. It's like painting on dusty blotting paper and can be quite unforgiving, hence all the practice to get it right the first time!
I paint the broad brushstrokes first, to establish the tones and shapes, before 'picking out' details using a thinner brush. Often, the brushstrokes flow across multiple tiles to create a cohesive panel.
Wherever possible, I like to share updates and photographs with the customer as I work, so that they can be part of the journey. I think it's really meaningful for people to see the process as their piece comes together.

Tell us about some of the bespoke pieces you have worked on...
I have worked on an eclectic mix of subjects over the years, from flowers, horses, dogs and wildlife, to trains and tractors, houses, a yacht and even a Spitfire. My largest piece to date was a fifty-two tile panel commemorating the Queen's diamond jubilee that is on display in Marlborough town hall.
Pets are very popular and achieving a good likeness is a particular test of my skills.
I love capturing all the nuance so, despite the added pressure, really enjoy opportunities to paint bespoke pieces.
I recently worked with a customer called Tricia whose starting point for a bespoke tile panel to upgrade a kitchen splash-back, was a much loved piece from another artist.
With the artist's permission, I developed a composition to incorporate the two beautiful original hare sketches. I carefully copied the hares across ten tiles and set them in a field of lively long grasses and dancing insects, which I painted freehand.
The piece was painted onto our crackle glaze base tiles, so the finished effect was soft and gentle. The hares looked beautiful in the new medium and, I hope, did justice to the original artwork. Tricia was really pleased with the end result.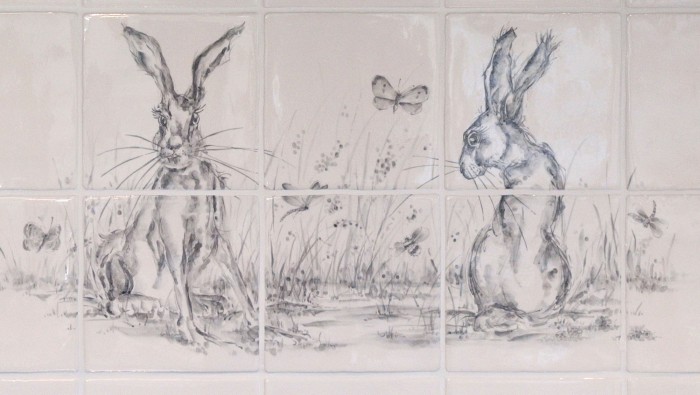 What has been your favourite project to work on?
I have a few favourites that have been particularly satisfying for various reasons.
A customer once asked for a collection of panels depicting memories of a trip to Switzerland. So, from photographs I painted 5 or 6 panels, including a chalet, a mountain lake and a family of marmots. Quite diverse and quite a marathon! But very satisfying.
Finally, what is your favourite thing about your job?
I get to paint all day! And I'm so proud of what we produce. It's a privilege to work with people so skilled at creating beautiful tiles. As a handpainter I'm just part of the team here, and we're all helping to keep these traditional methods alive, upholding the standard of craftsmanship that Marlborough Tiles is known for.
__

If you are interested in working with the artists at Marlborough Tiles to create your own bespoke panel, please don't hesitate to get in touch.