MT in focus
A year in review: our highlights of 2022
As 2022 draws to a close, we wanted to take this moment to look back on the past twelve months. For Marlborough Tiles, this year marked an incredible eighty-six years in business – and it's been one of our best yet. We're a small but very passionate team, and it's always gratifying to take pause at the end of the year and reflect on our successes.
So, without further ado, we are proud to share our highlights of 2022, as well as a few things we're excited about for the new year.

We started this year on a high, as Ben Spriggs, Editor of ELLE Decoration, cast his design eye over MD Jamie Robb's ambitious vision for the company.
Next, we kicked off with not one, but two new launches. First, our Kennet collection of handmade skinny metro tiles, inspired by the ancient landscapes that surround our factory.
Shortly after that, we launched our French Limestone collection. While we're perhaps best known for our unique glazes and for the artistry of our hand painted tiles, we do have another, perhaps less well known string to our bow. We are also specialists in porcelain floor tiles – and later in the year, were pleased to grow this offering further, adding beautiful Weathered Oak planks to our floor tile offering.
Spring saw the launch of the Barbury collection, which we developed with our friends at Neptune. Few businesses align so precisely with our values as Neptune, and we have been fortunate to work with the team there for a number of years now. The collection of rustic square tiles is available in a palette of five colourways, developed to coordinate beautifully with Neptune's paint colours.
Summer approached and with it came yet another exciting partnership – this time with leading interior design studio, Sims Hilditch. The hand painted Ana collection was inspired by a trip that Sims Hilditch Founder and Creative Director Emma Sims-Hilditch took with Marlborough Tiles Managing Director Jamie Robb to the Amalfi coast, a region with a rich ceramic heritage. We had great fun coming up with unique and unexpected ways to show off these beautiful hand-painted tiles, from tiling windowsills to designing a bespoke table with a chequerboard top.

In July, we celebrated tiles from our Wilding collection being chosen by Elle Decoration as one of their 'Best New Tile Designs for 2022'. We were also thrilled to be recognised as one of Country & Townhouse magazine's Best British Tile Brands.

By early August, we reached the exciting milestone of 10,000 followers on Instagram. Behind everything we do is a team of makers, artists, inventors, technicians and designers - and social media gives us a visual platform to tell our unique story. We feel very lucky to be part of such a supportive and creative design community. One of the highlights of our day is reading your lovely messages and comments, and connecting with like-minded brands. If you are not already following us, we would love for you join us on our journey. You can find us at @marlboroughtiles.
As autumn set in, we were already thinking ahead to lighter and longer days. Along with a talented team of photographers and stylists, we captured inspirational ways to use our tiles outside. We look forward to sharing the results with you in the spring, and to launching a new collection that has been almost ten years in the making.

In late October we launched our very special Marlborough Matts collection, which was an instant hit. Our Matt tile collection is available in two sizes, a 7.5 x 15 cm medium brick tile and and a 6 x 21 skinny brick tile, and in a palette of ten versatile colours. The deep, rich shades such as Slate Blue and Coldharbour Green have proven to be particularly popular.
The run-up to Christmas featured still more exciting moments. We had the pleasure of welcoming Samantha Scott-Jeffries, Editor of The English Home magazine to the factory. It was a joy to share with her the process of hand painting our tiles in the traditional Majolica technique which we have been using since we opened our doors in 1936. We have also been working hard behind the scenes on a collaboration with our friends at Everhot, the details of which we look forward to sharing with you in the new year.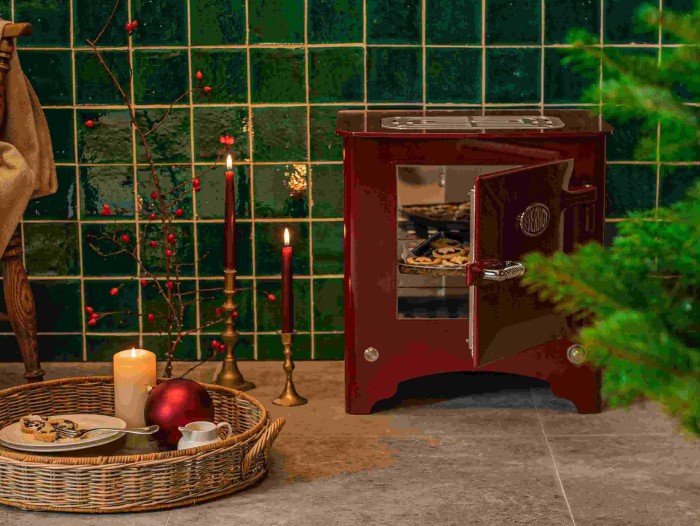 Last but certainly not least, this year we have been proud to share some of our customers extraordinary home renovation projects - from Emma Diaz's cosy Cotswolds kitchen and bathroom, to Harriet Howarth of Soho Home's inspired bathroom and hallway project, to Nic and Sophie's architectural new home, which places independent British makers at its heart. Explore all of these and more under the Inspiration tab in our journal.
All that remains is to say a big thank you to our customers, retailers, friends and family for your support. We hope you have a wonderful Christmas and a healthy, happy and prosperous 2023.