Inspiration
A cosy yet playful family bathroom at The Little Stone Cottage
Emma and her husband have been faithfully renovating their Cotswolds home by hand over the past eight years, and Emma documents their journey on her popular and simply beautiful Instagram account, @ByEmmaDiaz.

Emma is no stranger to the pages of this journal, and when we spoke in January, the couple had just finished renovating the kitchen of their Georgian cottage, with the addition of some of our favourite hand painted tiles.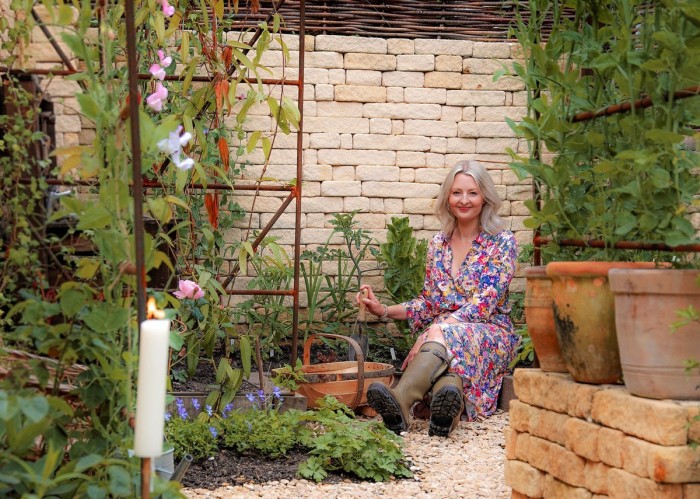 Since then, Emma has been hard at work renovating their bathroom, which she has taken from a white box to a cosy, characterful space that's truly original.

In today's article, Emma generously shares her approach to creating this soothing bathroom look, including a colour tip that will literally make your guests glow!
Hi Emma, it's lovely to speak to you again! What have you been up to since we spoke in January?
Well, between the renovation of our bathroom, my colour consultancies at Edward Bulmer, and looking after my little one, I have been quite busy! I have also been finishing lots of other areas around the cottage, as well as planning some new and exciting things for this year. All will be revealed soon!
Sounds exciting! So tell us, what was the bathroom like when you first moved into the cottage?
It was fine on the surface - just a plain white box. But I couldn't wait to make it more 'us'! We began by gutting the space - the ceiling came down, the tiles came off the walls and the plumbing, electrics and fixtures came out. We uncovered an original elm beam, as well as restoring the original Cotswold stone around the window.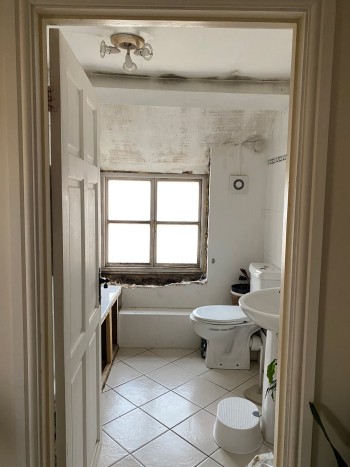 Well we must say, the results are beautiful. How did you go about designing the space?
The tiles were the first piece of the puzzle. I had been searching for a tile that would feel just right with the time period of our Georgian home, yet still be up-to-date. The Wilding collection offered the perfect balance. We love nature and a lot of the renovation work we do here is inspired by the environment around us.
The hand painted wild creatures in Delft blue are so charming, it just felt right to bring them into the space. I love that they have a decorative intricacy without being overly detailed, and adore the border tiles for the same reason - the pattern is simple yet beautiful.
That's wonderful. And are you pleased with the effect overall?
I LOVE it. I remember feeling like I had no idea what I wanted this bathroom to look like when we started planning it, but I am so pleased with how it has come together.
We have created a space that's not only beautiful, but also family friendly. My son is a huge lover of nature, and absolutely adores the hand painted characters on the tiles. We play games when he's in the bath, spotting and naming all the animals! It's really a wonderfully playful but equally soothing space to be within, and the perfect balance between period charm and modern luxury, with lots of my own personality thrown in.
We love them too! Were there any close seconds when it came to choosing?
I was very close to choosing the Ettie hand piped tile in a soft off-white like Wool from the Ullswater collection. I love the tactility of those tiles to bring texture and interest to a space.
The colour palette you chose is just beautiful. How did that come together?
Having chosen the tiles which as I said are an off-white with Delft blue, I had a few options. Perhaps other people would feel that a fresh blue to match the hand painted animals would have been the obvious choice, but I was cautious of using lots of blue in such a small space with little light.
It's a widely known fact that colour can affect your mood, but it's also true that it affects the way you look. Historically, designers and architects used pink in spaces for entertaining and rooms frequented by guests, to amplify the radiance of their skin tones. The warm, delicate pigments in the paint would literally reflect onto people's skin and make them 'glow'... whereas if they'd chosen blue, they would have run the risk of guests looking a little grey!
A bathroom should be a place where you can look in the mirror and feel good about yourself, so I decided that I'd follow the same line of thinking. I chose a pink from Edward Bulmer called Cuisse De Nymph Emue that has a touch of blue pigment in it (rather than it being an earthy, brown pink), so it works beautifully with the tiles. I hope that anyone that steps foot inside will feel like they are glowing when they look in the mirror!
I added fabrics in warm muted yellows, through a pendant shade from Alice Palmer, wall light shades and curtain fabric from Chelsea Textiles. The mirror was made by Alfred Newall. I'm thrilled to have supported so many British artisans and makers with this project.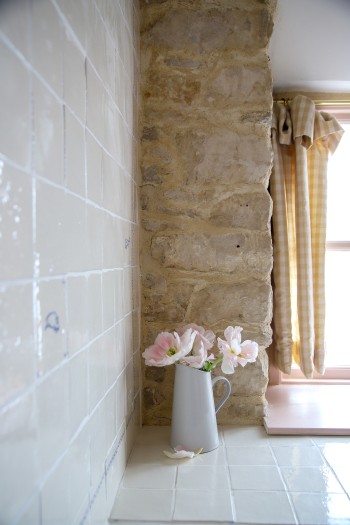 Do you have any tips for our readers who might be embarking on similar projects?
Designing a bathroom is much like designing a kitchen. It's not something that will be changed easily, perhaps for ten years or more. So choose the pieces that will be your focal points, and invest in them. For me, it was the suite and the tiles. But it could just as easily be the bath of your dreams. Don't underestimate the power of tiles though - they can change the entire feel of your space!
What's next at The Little Stone Cottage?
We still have a few decorating projects to finish off here (angles that you haven't seen for a while on Instagram!) and we will be continuing to work on the garden over the summer, growing lots of different produce in our little vegetable patch. Without giving too much away, I will also be taking colour onto the outside of the cottage very soon. So do keep an eye out for what's to come next from me!

___
Follow Emma's renovation at The Little Stone House on Instagram @ByEmmaDiaz.
Wilding is a very special commemorative collection launched last year in celebration of our 85th anniversary. It features nine untamed and playful animals from British wildlife, individually painted by hand in the traditional Delft blue on our rustic biscuit. Learn more about the Wilding collection here.
We love nothing more than seeing your completed interior design projects. If you would like to see your home featured here, simply tag @MarlboroughTiles in your project photographs on Instagram.
scroll-overwrite