Inspiration
Introducing Emma
Our latest hand painted collection has a special story behind it. It begins on a sailing boat, where our MD, Jamie Robb, first met Emma Sims Hilditch's brother. Over the years the families got to know each other through their passion for the sport and discovered their creative synergies.
Emma, a leading interior designer who is known for her elegant yet contemporary take on the traditional English countryside aesthetic, was fascinated by the craft of designing tiles. After a visit to our workshop, the idea was born to collaborate on a collection of tiles reminiscent of floral wallpaper designs. As with wallpaper, patterned tiles are a great way to add unique character to a room.
To create the collection our hand paint artists, Helen and Kirsty, started by doing sketches of different leaf and flower designs. Each and every aspect of the design was pored over to ensure the details were just right – too many leaves would look fussy while perfect symmetry would be too repetitive. After a few rounds of editing, our favourite patterns were selected and free hand painted onto tiles to test their appearance after firing.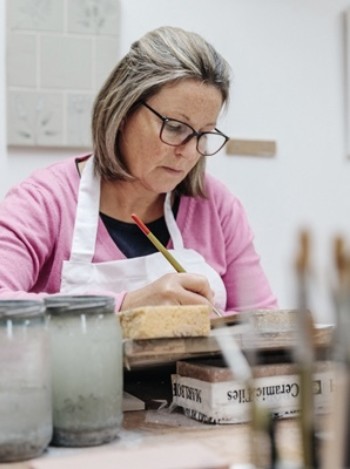 Once the designs were agreed, the glaze was developed. We chose to complement the delicate patterns with a crackle glaze. This type of glaze is carefully created to cool at a different rate to the tile body after firing. As the glaze cools, a network of fine cracks appears through a process known as crazing. The random patterns add a touch of wabi sabi to the delicate hand painting. Each tile is hand stained to enhance the vintage look.