Inspiration
The range cooker panel: a creative guide
If there's a range cooker in the kitchen, you can be sure that's where people will congregate. It's not just warming to the body, but heartwarming too. So if you ask us, there's no better place to add an arrangement of tiles, to give the eye something beautiful to rest on.

In addition to being aesthetically pleasing, a panel of tiles is practical. It will protect the wall from greasy marks and splashes, offering a surface that's easy to clean and won't mark.
More than that though – it's an opportunity to be creative. Think of this in the same way that you might approach choosing a piece of art for your home. But rather than hanging a painting, you're creating a permanent decorative installation.
In this article we introduce you to four of our favourite ways to make the most of the space above your range cooker, and then finish with a carousel of beautiful cooker panels for inspiration. Read on and enjoy!

For a range cooker panel with unique character, we simply love hand painted tiles. After all, they are literally works of art, painted by hand and individually signed by the artist on the reverse.
The choice of images is large – from farmland birds to kitchen utensils, from flowers to words. Or for something completely bespoke, you can even request hand painted words and images of your choosing.
The designers at Neptune selected our hand painted Cockerel panels in timeless Charcoal as a centrepiece for the farmhouse kitchen pictured above. (It's worth noting that our tiles are painted to order, and as such can be created in a colour to suit your scheme.)

A frame for your work of art adds a final flourish. Depending on your design, you may opt for painted finishing pieces, or plain ones like these, to run a fine border around the panel. Our design team is on hand to offer advice on the best options for your space.

OPTION TWO
Pretty patterns
If you seek to add delicate charm and individuality to a kitchen, look no further than a hand-painted patterned tile.
Within our collections, you'll find a variety of exquisite patterns, from our vintage-inspired Follies collections, shown above with this fabulous Tangerine Everhot cooker, to the Ana collection, our latest collaboration with Sims Hilditch, inspired by the rich ceramic history of Capri.
For a maximalist look, run your pattern across the full width and height of your space. Or to add a sense of space, you might choose to frame a patterned panel with a border of plain tiles. (You could even do the same with two panels – see the carousel at the end of this article for examples). Another option is to dot patterned tiles across a panel of plain tiles, to add subtle intrigue.
OPTION THREE
A fresh canvas
Bringing a sense of harmony to any space, white is a wonderfully versatile choice when it comes to interiors — and a panel of white tiles above your range cooker is a timeless option that will always look clean and fresh.
In the kitchen above, the designers at Sims Hilditch have chosen our extremely popular Nice and Easy long bricks which have a gently undulating surface that reflect light around the space beautifully.

Understanding the light in your space and having an idea of the feeling you seek to evoke will help you to choose the perfect white tile. If your range cooker is in a bright corner, basked in light, choose a white that has cooler blue and green tones to bring a sense of balance to your space. On the other hand, if your range cooker is tucked into a recess in your kitchen, a white that includes subtle yellow or pink tones will add warmth. We suggest ordering a few samples before making your decision.
OPTION FOUR
Colour blocking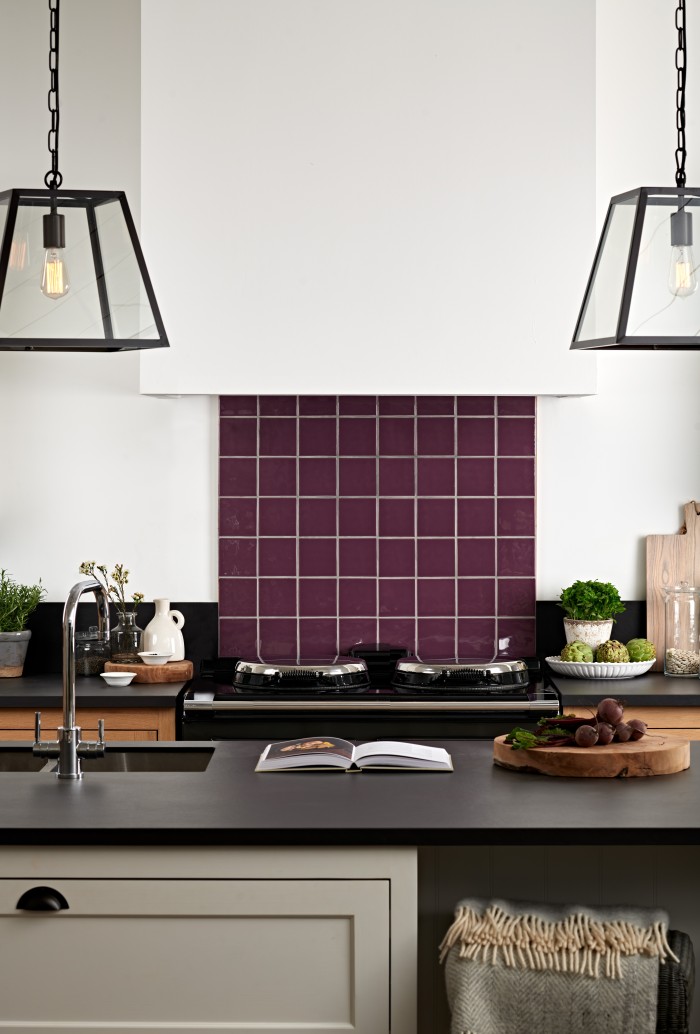 A panel shining with rich colour can add a dramatic extra dimension to a kitchen.

If you're looking for a bold option that offers a luxurious feel, consider a deep plum coloured tile such as the one shown above, Escarpment, from our Landscapes collection.
We have extraordinary array of colours and tones to choose from, all mixed from our bank of more than fifty raw pigments and stains. Click through to our Colour Guide and order a few samples to get your project started.
With this look, you can choose from a variety of differently shaped tiles, from classic squares to beautiful curved scallops, and from skinny metro tiles to traditional brick shapes.

DIVE IN
A carousel of inspiration
The choice is yours, and as you can see, the scope is enormous. However you approach it, a range cooker panel always adds magic, giving the heart of the home a unique focus and charm.
Seeking more inspiration? We recently collaborated our friends at Everhot, to create three fantastic new kitchen sets for their redesigned Gloucestershire showroom. Read the article here.
Finally, our design team is always on hand to help should you need some advice. Simply get in touch.

scroll-overwrite