MT in focus
Playing with colour: The science and art of our extraordinary coloured glazes
As part of her role developing our new products, Anita Rivers can usually be found in her lab immersed in a world of colour. She explains the science and the secrets behind how we achieve our extraordinary coloured glazes.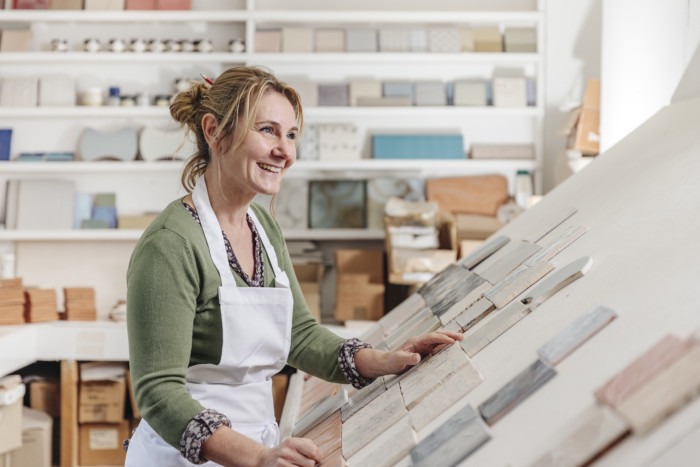 Ever since I started working in ceramics, I have been fascinated by colour. The truth is that I'm a little bit obsessed! Wherever I am, I observe colour at work – especially in the natural world. What's extraordinary is that in the natural environment you never see a colour that jars. Everything works together and that's something I draw on in my work. For example, when I'm out on a walk I'm very aware of subtle variations. One side of a leaf is not the same colour as another, but they work together. When I was in Andorra recently, I kept looking at how the colours of the mountains worked perfectly alongside each other. The subtlety was astonishing.

When creating colour I follow the same philosophy. Particularly within a collection, the colours should all work together. Even across the entire Marlborough Tiles range, there is a single underlying palette. All our colours have a kinship. Not every two colours will go together, but with a third or fourth to link them they will.

Marlborough's process for making colours is truly special. Many manufacturers simply use a single premixed stain to make a colour. The problem with that is that the end result is the same colour as everyone else's, and you see it everywhere. It's not a unique colour, it's just something bought off the shelf. At Marlborough, we make our colours using a blend of stains. We have a stock bank of over 50 different pigments and oxides that we play with in order to create the precise nuance of shade we are seeking.

All our colours are the result of carefully crafted experimentation. To produce a colour, I first decide what proportions of stain I want to test. Then I weigh out each powder very precisely, mix them with a tiny quantity of water, pour the resulting solution through a sieve into the base glaze, paint it onto a test tile, and fire it. Then we see what we've got. Sometimes it's right first time but more often it's not, so we try again with a slightly different mix. It's trial and error, but based on experience and an intuitive feel for how colours work.

Our precise colour recipes are a closely guarded secret but let's say I'm aiming for a dark blue. I'd start with black, mix in bright cobalt blue but then add a little yellow. This gives the blue a little green and removes any hint of red lurking in the blue. When it comes to green, we use black and yellow – and no blue at all. If you use blue, the resulting colour doesn't look natural, and has too much pink. We also use oxides to enhance and enrich the colour. Copper oxide, for example, gives a separation to the colours, which achieves a greater reflection and a greater movement of colour across the glaze. As it fires, the copper oxide releases yellow.

The resulting colours have a depth, a vibrancy and a visual interest. It is my passion to craft all our colours to delight the eye in this way.

Creating colour is a science, but it's also a true art.