Inspiration
Heather's Stoke Newington kitchen renovation
Heather and her husband Harry have lived in North London for nearly ten years. But it was during the pandemic when, on their daily walks, the couple took to exploring the quiet side streets and leafy lanes of Stoke Newington and decided to make the area their home more permanently.
After narrowing down their search to just a handful of streets, Heather and Harry landed on the perfect property, and set about transforming their Victorian home into a sanctuary of style and comfort.

Heather's appreciation for both vintage and contemporary design have played a pivotal role in shaping their home's aesthetic. From coveted marble worktops to the rich, deep-red of their kitchen cabinetry, every detail has been meticulously chosen to strike a balance between classic elegance and eclectic charm.

In today's article, Heather shares how their dream kitchen came to fruition. Along the way, she offers valuable insights and tips for those embarking on their own renovation journeys.
Hi Heather, thank so much for talking with us today. Tell us about your new home...
We've lived in Stoke Newington for nearly ten years, but only moved to this house last November. During Covid, when pretty much everything was shut, we would go walking around the area, and started exploring all the side streets and residential streets. I love how peaceful and green it is here, and that there is a real village vibe.
Covid confirmed that we definitely wanted to stay here, and when we started looking for a house, given how much time we'd spent exploring the area, we were able to pinpoint three roads we wanted to live on. We wrote letters and hand delivered them asking if anyone wanted to sell. We have a few amusing stories from that, but nothing came to fruition. Eventually we saw this house on Rightmove. Straight away, we loved it.
We were looking for a project, but wanted somewhere that was liveable because we knew we'd be doing the renovation in phases. We wanted somewhere that still had the original features - beautiful cornicing, fire places, floorboards - and this house had it all. We don't know the exact year the house was built, but around late 1800s, early 1900s. Stoke Newington was heavily bombed during World War II, and lots of the houses were partially destroyed. We believe that the top of our house was destroyed and rebuilt as it doesn't quite line up with next door and some of the bricks are heavily burned. But I think that adds to its charm!
How would you describe your aesthetic?
I would describe my aesthetic as being a mix of vintage and new, a little bit eclectic. I love colour and natural materials. I also wanted to respect the history of the house, which is Victorian, so we went for a classic Shaker-style kitchen rather than something more contemporary.

It really is beautiful, and such a transformation! How did you go about creating the overall look of the kitchen?

We made quite a lot of structural changes to the kitchen - the ceiling previously was quite low, so we dug down to give extra headroom. The room was completely gutted, rewired, boiler moved and underfloor heating put in. We changed the small window and single door at the back of the house for double crittall doors and windows to bring in more light, and carved out a little bit of the original kitchen so that we could put in a downstairs loo. And then of course a completely new kitchen! A lot of the work coincided with me changing jobs, so I did some DIY bits initially - mostly gutting the room, removing old units and removing plaster from the wall.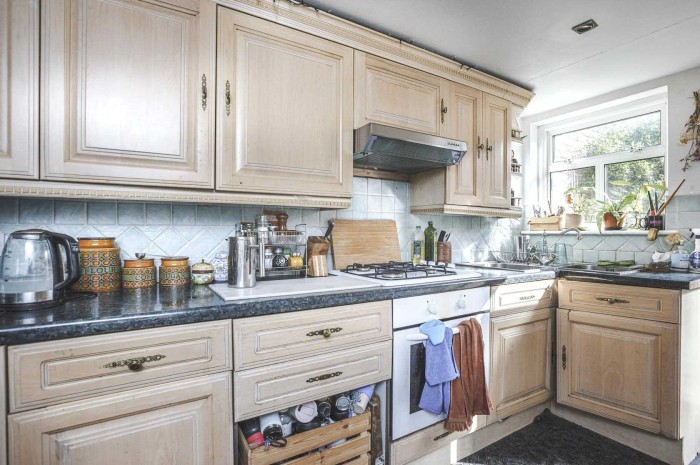 Before we even found the house, I was adamant that I wanted marble worktops. I love the tactile feel of marble, and so even though the stone fabricator tried to put us off, advising granite was more durable, we went with it and I'm so happy we did. The actual kitchen design evolved quite organically after that.
I booked a colour consultancy with Edward Bulmer as I like their ethos on natural, non-toxic paints. They helped me to create the colour palette, which was mostly oriented around different pieces of art we already owned. Given that the kitchen cupboards were deep, dark red, I knew I wanted a light wall colour to ensure the kitchen still felt airy, which is how we ended up with the plaster pink type shade that looks so lovely alongside the Uist tiles from the Isles collection.
I spent a lot of time looking on Instagram for inspiration, and at one point was very keen to have Delft style tiles above the range cooker. That was how I discovered Marlborough Tiles, and initially I had my heart set on the Wilding collection. I really liked that they were handmade and painted by hand, with the blue and white colour palette and the sweet little images. I did get samples of them, and loved them, but sadly they weren't quite right with the marble worktop. The quality was excellent though, so I was keen to choose something else from Marlborough - which is how I landed on the Uist square tiles from the new Isles collection.

I really like how each one is slightly different, and how the colour changes throughout the day. In some lights they look more pink, in others nude or even cream. They're simple but elegant, which is exactly what we wanted to go for. After sampling these tiles, it was an easy decision - no close seconds!

We love how everything has come together. Which other artisans did you work with to create the look?
We worked with Devol for the kitchen and the small cream wall lights, and Corston for the brass lights and sockets - which have a lovely patina. We also worked with interiors advisor The Independent Eye, who helped with the colour palette.
What were the greatest challenges of the project?

Other than budgeting (which I'm terrible at, and we went significantly over!), it was just coordinating everything. Although our builders were also helping project manage, there were still some trades we had to coordinate ourselves, including the windows and doors, which led to some heated arguments with the supplier!
I'm in awe of anyone who manages a whole house renovation in one go, as there are so many decisions that I hadn't really anticipated: grout colour, grout width, shelf height, wall light spacing, worktop thickness, socket placement... I could go on! And often when you need to make the decision, the builder wants it right away - but don't be afraid to ask for some time to think it through. Give yourself time to make the right decisions and don't rush anything if you can avoid it.
A huge thank you to Heather for sharing the story of her kitchen renovation with us.

We love nothing more than seeing your completed interior design projects. If you would like to see your home featured here, simply tag @MarlboroughTiles in your project photographs on Instagram.

scroll-overwrite