Inspiration
Adam and Miranda's vibrant and creative kitchen
Artist Miranda Carter and her husband, photographer Adam Carter's kitchen was always going to be a beautiful, bold and creative space.
The couple and their two children have lived in their rural home near Malmesbury in Wiltshire for three years. They had planned to renovate the kitchen since the move — and a leak at the end of last year made the project a priority.

"The old cabinets were made from chipboard," explains Adam. "They soaked up the water like sponges and then split. It was high time for a refresh!"
As for so many of us, Adam and Miranda's kitchen is a multifunctional, family space — used for home schooling and dinner parties, kitchen discos and games. It is also a valuable location for displaying Miranda's art before it makes its way to her customers.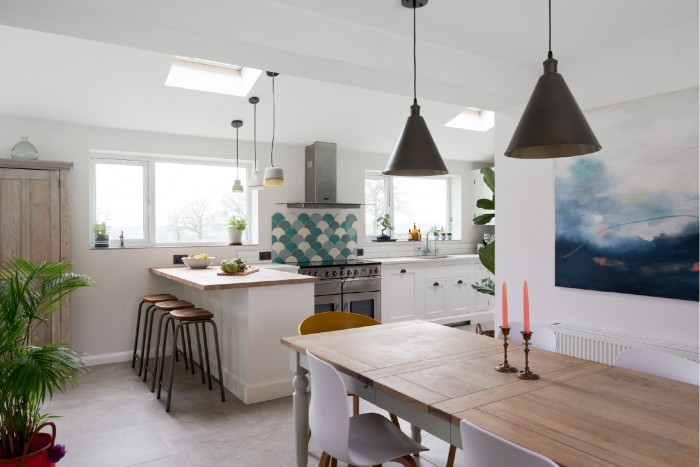 Miranda's beautiful acrylic and mixed media works take inspiration from the rhythms of nature and wide open landscapes. Her canvases are alive with gentle washes and bold daubs of colour.
"We both love the water. Surfing and swimming are our favourite pastimes, and we wanted to reference that in our kitchen design," she says.
To complement their classic, yet clean and modern white timber Neptune kitchen, the couple chose scallop tiles from our Soho collection in a mixture of vibrant blues and greens mixed with a calming cream colour. The overall look is one of harmony and movement, reminiscent of gentle waves.
Adam is familiar with Marlborough Tiles particularly through his photography work with us — he took the stunning product images that you see across our website and brochure. "There was no question about who we would use for these tiles," he says. "I've seen them freshly glazed and coming off the kiln before — it's an amazing sight."
The colours of our Soho collection are created using traditional techniques first used by the Victorians, such as adding cobalt and copper oxides into the glaze. When fired these oxides add another dimension to the colour by refracting light of a different frequency to the pigment. The daylight streaming in through Adam and Miranda's kitchen window here sets them off beautifully.

Adam and Miranda decided to take on the tiling themselves. "It was quite interesting, and not that challenging in the end," he says. "I got a lot of advice before we started and hired proper tile cutters. We used spacers and laid out the pattern in advance."
We're sure you'll agree, they did an incredible job and the kitchen looks spectacular.
"We're hugely looking forward to being able to make the most of the new space once lockdown lifts," said Adam. "We used to have friends for dinner every weekend and can't wait to share the space with them again."
"An excellent product and superb service. Many thanks to Grace and Jamie from Marlborough"

Nick Lester, customer
"Handmade tiles with wonderful glazes; the craftsmanship, the beauty and the customer service."

Ephia Yasmin, customer
"Always visionary and ahead of the times from the outset."

Ben Spriggs, Editor-in-Chief, Elle Decoration
"Your service is outstanding and everyone is stunned by the result. I could not be more delighted."

Pat Jones, customer
"Marlborough are a trusted collaborator to design unique tile collections which delight our customers"

Rebecca Malon, Head of Design and Product Development Neptune
"Over 20 years, our brand has relied on Marlborough for specialist colour and glaze development."

Colin Roby-Welford, MD of Fired Earth